Merkel Rejects Refugee Cap as She Tightens Control Over Crisis
by and
Chancellor names top aide to coordinate as pressure grows

`We will do this,' Merkel reiterates in talk-show appearance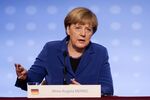 Chancellor Angela Merkel rejected calls by party allies to cap the number of refugees in Germany and assumed closer control of the crisis, naming her chief of staff to coordinate policy to handle the biggest influx since World War II.
"How is that supposed to work?" Merkel responded on a talk show Wednesday when asked whether Germany should halt the flow of refugees. "You can't shut the border," she said, declaring the Hungarian government's construction of a razor-wire fence a failure. "There's no such thing as a cap on how many you can stop from coming in."
"We will do this," Merkel said, even as she acknowledged the "huge challenge" of accepting at least 800,000 people fleeing war and poverty this year. Her appointment of chief of staff Peter Altmaier to helm the crisis response signals the scope of the challenge facing Merkel as her approval ratings decline.
After joining French President Francois Hollande at the European Parliament earlier Wednesday to lobby for a joint European approach to the crisis, Merkel said in the ARD television show that many countries weren't doing enough.
"I need European allies," Merkel said in the ARD television interview. "I have some, not yet enough. Some of them are shirking their responsibilities; we need to work on that."
Merkel stood her ground this week amid mounting criticism from within her party bloc, particularly from the Bavaria-based Christian Social Union, some of whose members have called for tighter border controls and a cap to the influx.
"My approach is that I don't promise anything I can't keep," Merkel said.
Germany's ability to absorb refugees is limited, Finance Minister Wolfgang Schaeuble said Tuesday in Paris, citing a "very nervous and fragile situation" as states and towns struggle to house, feed and police the stream of people fleeing war and poverty.
Before it's here, it's on the Bloomberg Terminal.
LEARN MORE