Is Elon Musk the Next Bugsy Siegel?
by
S&P says Nevada's Tesla investment will raise wages, taxes

Nevada is moving away from dependence on gambling, tourism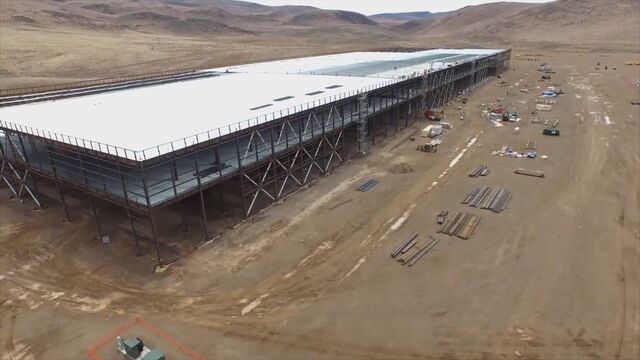 Elon Musk's Tesla Motors Inc's new battery plant in Nevada may do what mobster Bugsy Siegel did for the state back in the 1940s: Spark a new industry that will help drive the local economy.
Siegel built the Flamingo Hotel and Casino in Las Vegas that helped the desert state's growth as a center for gambling and entertainment. Now the 6,500 workers Tesla's new lithium-ion battery plant near Reno are expected to employ will help move the state away from those recession-prone industries, the credit-rating company Standard & Poor's said in a report. The plant, with an hourly wage of $27, also is expected to increase income in a state where workers earn a little over $20 an hour, S&P said.
That should help tax revenue and reduce the contractions that have forced the state to cut spending and raise taxes when downturns in the national economy keep tourists and gamblers away. From 2007 through 2010, the state lost 186,300 jobs, or 14 percent of its employment base after the worst recession since the 1930s. The state's unemployment rate remained 1.6 percent above the rest of the U.S. in 2014 and per capita personal income levels are 88 percent the national average.
Business Migration
"They have had a historic dependence on discretionary spending of visitors," said Gabriel Petek, the primary analyst on the state, in a phone interview. "We think their moves toward diversification will be favorable for the state's credit quality."
The state's budget was out of balance in 2015 as it used up its rainy day reserve because tax revenue failed to keep pace with projections. The investment of some $1.3 billion of forgone revenue over 20 years in Tesla and tax incentives to Apple Inc. and Los Vegas-based Switch Ltd., which operates data centers, may even out some of state's boom-and-bust cycles. Twelve additional firms have followed Tesla to its site, the report said.
State Treasurer Dan Schwartz said the state took rating officials on tours of new business developments in the state.
"These projects show the diversification of the economy and signal that Nevada is open for business," said Schwartz. This round of ratings was better than the last, he said, when officials were sweating a possible rating cut.
S&P's AA rating with a stable outlook came in connection with $334 million of bonds the state will begin selling Oct. 14.
"Nevada has been a slow growth state, but now there is some potential for them to have a more stable economy and stronger growth," Petek said.
(An earlier version of the story corrected the spelling of Siegel.)
Before it's here, it's on the Bloomberg Terminal.
LEARN MORE