politics
Hillary Clinton's Fierce Gun-Control Advocacy Marks Sea Change for Democrats
Her tone is a breath of fresh air for Democrats who have been counseled for years by party pragmatists not to raise what has been a politically dangerous issue.
By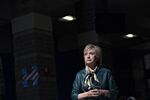 A near-epidemic of gun violence in the United States has prompted Hillary Clinton to embrace the cause of gun control with an aggressiveness not seen from a major Democratic presidential contender since her husband ran for the White House more than two decades ago.
One day after the mass shooting Thursday that left nine people dead at a community college in Roseburg, Oregon, Clinton promised voters she'd "fight for new, effective gun control measures" if elected president. She called it "heartbreaking" and "sickening" and added: "What is wrong with us that we can't stand up to the NRA and the gun lobby and the gun manufacturers? This is not just tragic. We don't just need to pray for people, we need to act. We need to build a movement." On Monday, she rolled out a series of proposals that would close gaps in federal background check requirements, hold negligent firearm dealers accountable and act unilaterally to close loopholes in the system if Congress doesn't act. Clinton did so in New Hampshire, a state where the second presidential nominating contest will be held, and that is also home to at least three major gun manufacturers.
"Her willingness to pursue reforms by executive action if necessary is proof of how urgent a priority this is to her," Clinton campaign spokesman Brian Fallon said.
Clinton's assertive tone is tactically smart—guns represent the one issue where her chief rival for the Democratic nomination, Senator Bernie Sanders of rural, gun-friendly Vermont, has been out of step with the party liberals he's been courting—but it also represents a breath of fresh air to Democrats who favor gun control and who have been counseled for years by party pragmatists not to raise what has been a politically dangerous issue.

"There has been a sea change on this issue," Connecticut Senator Richard Blumenthal told Bloomberg. "And it is part of breaking the grip that the NRA and the anti-gun violence prevention advocates have on this issue. For a major presidential candidate to break this logjam in the way she's doing is a momentous shift. No other candidate in recent memory, or perhaps ever, has taken this strong a position as emphatically or unequivocally as Hillary Clinton has done."
Gun-control advocates don't underestimate the power of the gun-rights movement. It remains a towering obstacle, boasting a large financial war chest, an army of pro-gun voters and volunteers to pressure lawmakers, and a Republican Party—in Congress and on the presidential stage—committed to minimizing restrictions on gun sales. But advocates on the opposite side of the debate are prepared to make it a marathon, and they're thrilled that Democrats, after years of running in the other direction, are beginning to show up at the starting line.
"Bill Clinton was the last politician who showed a fearlessness on the gun issue. [Al] Gore showed plenty of fear," said Ladd Everitt of the Coalition to Stop Gun Violence. "When you hear Hillary Clinton talking about, as president, building a national movement to take on the NRA and enact these reforms we're back to that fearlessness. In our movement, confidence is gold. Energy and confidence is everything."
Hours after Clinton released her plan, Sanders endorsed stricter background checks and an assault weapons ban. A third Democratic contender, Martin O'Malley, last month laid out the most aggressive gun-control proposals in the field, including mandatory fingerprint-licenses for firearm buyers and a national gun registry.
But the strong rhetoric from the party's front-runner on an issue that many Democrats have long considered a political third rail has given new hope to gun control advocates. "Clinton is showing that the NRA is no longer in charge. She is showing real courage and I think it's ultimately going to infect the entire party," said Senator Chris Murphy, Democrat of Connecticut. "I think this is catastrophic for Republicans that they are continuing this deafening silence on these mass slaughters."
Obama's journey on gun control
The uncomfortable irony for President Barack Obama, who plans to visit families of victims of the Oregon shooting on Friday, is his own evolution on the issue is emblematic of the movement's struggles and his party's caution. While he has given lip service to the cause of gun control, he wasn't willing to fight for it until after he was re-elected to a second White House term, and never had to face voters again. "When he ran both times, he never confronted this issue," Blumenthal observed. Today, Obama is the crusader-in-chief for gun safety laws, issuing a call for "meaningful action" after the the December 2012 massacre of elementary school children in Newtown, Connecticut, and urging voters to step up in a fiery speech after the Oregon shootings, saying the U.S. has become "numb" to "routine" gun violence and makes a "political choice" to accept it.
As an Illinois state senator, Obama wanted to outlaw semiautomatic assault weapons and limit handgun purchases to one per month, and backed local gun bans. When he ran for president in 2008, Obama downplayed gun control. "I believe in the Second Amendment," he said at a rally in Virginia that September. "I believe in people's lawful right to bear arms. I will not take your shotgun away. I will not take your rifle away. I won't take your handgun away." That reticence continued through the 2012 election.
The NRA's claim that "Obama would be the most anti-gun president in American history" is belied by his record.
President Obama has overseen an expansion in gun rights. In 2009, when his party ran Congress, he enacted a bill to allow guns in national parks like Yellowstone and Yosemite. The following year his signature achievement, Obamacare, restricted the collection of government data on the ownership or use of guns. During his presidency, the number of guns in the U.S. has exceeded the number of people by tens of millions.
In 2010, the Brady Campaign to Prevent Gun Violence gave Obama an "F" grade for his performance. Chicago Tribune columnist Steve Chapman joked that year: "On the list of issues for which Obama is willing to put himself on the line, gun control ranks somewhere below free trade with Uzbekistan."
A long game for Democrats
The Democratic shift began after the Newtown killings. Then-Senate Majority Leader Harry Reid, a Nevadan with a pro-gun voting history, in 2013 led the push for mandatory background checks on firearms purchased at guns shows and over the Internet—a measure that was backed by nine in 10 Americans. It died by filibuster amid opposition from the National Rifle Association and all but four Republicans. But the Democratic consensus was notable: just four members opposed the bill, three of whom have since left office.
"The shift started after Newtown and Clinton's move is a hopefully a sign to other Democrats up and down the ballot," said Dan Pfeiffer, former senior adviser to Obama. He added that "Democrats will have more success giving their supporters a reason to come out than try to appease the NRA."
A spokesperson for the NRA declined to comment for this article.
The Republican-led Congress has no interest in gun control, and the party's presidential contenders—from outsiders like billionaire Donald Trump and retired neurosurgeon Ben Carson to establishment figures like former Florida Governor Jeb Bush and Senator Marco Rubio—roundly maintained opposition to stricter gun laws after the Oregon shooting. Pro-gun credentials are a litmus test in the conservative movement, and most Republicans say gun laws won't prevent future massacres and argue mental health should be the focal point.
But gun control advocates aren't giving up. They note that the Brady Handgun Violence Prevention Act, which required background checks and a three-day waiting period for most gun sales, was first introduced in 1987 with the endorsement of Ronald Reagan (it was named after his press secretary, James Brady, who was grievously injured in the 1981 assassination attempt on his boss) and took six years and multiple votes before finally passing in 1993. The following September, Democrats passed a 10-year ban on assault weapons. Two months later the party lost control of the House for the first time in four decades, putting a distinct damper on enthusiasm for gun control. 
More than two decades later, that energy is returning. Senate Democratic leaders plan to announce a new push Thursday to change the politics of gun control and, as Reid, now minority leader, said, "do everything in our power to let the American people know that we're not kowtowing to the gun lobby." They recognize the obstacles ahead.
"The NRA built up their political infrastructure over 20 years," said Murphy, the Democratic senator. "It might not take us two decades but we shouldn't expect that we're going to get big victories overnight."
Before it's here, it's on the Bloomberg Terminal.
LEARN MORE