Glencore Gains a Fourth Day in Longest Run Since July
by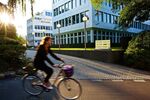 Glencore Plc shares rose for a fourth day in London, its longest run of gains since July.
The shares rose as much as 4.5 percent to a two-week high and were up 3.4 percent at 121.8 pence by 8:02 a.m. local time.
To ease investor concerns about its finances, the company on Tuesday released a document that explained financing arrangements, such as sources of funding, the terms of debt facilities and the impact of a credit-rating downgrade.
Before it's here, it's on the Bloomberg Terminal.
LEARN MORE