Icahn Gets His Way as Freeport Adds His Allies to Board
By and
Langham and Mather appointed to the board of directors

Icahn and his associates hold an 8.8% stake in Freeport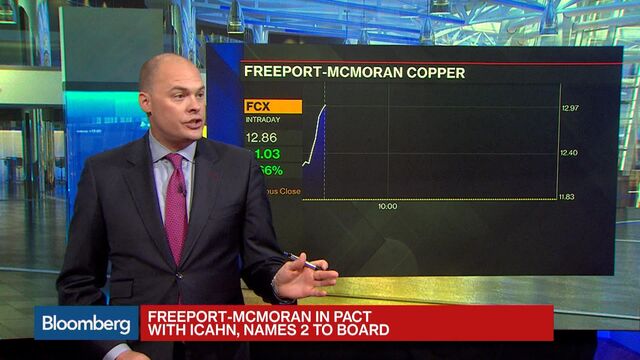 Billionaire activist investor Carl Icahn got his way at the world's biggest publicly traded copper producer.
Freeport-McMoRan Inc. agreed with Icahn to appoint Andrew Langham and Courtney Mather to its board, the Phoenix-based said in a statement Wednesday. Langham has been general counsel of Icahn Enterprises LP since January, while Mather has served as managing director of Icahn Capital LP since April 2014. Icahn will also add a director to the oil and gas unit's board, a regulatory filing shows.
The appointments come a day after Freeport said it was cutting its board to nine from 16, as it prepares to separate its oil and gas unit following "constructive discussions" with shareholders. Freeport angered investors with $9 billion in oil and gas acquisitions in 2013, only to see crude prices plunge by more than half since the middle of last year. Freeport's shares surged as much as 14 percent on Wednesday.
'Commend the Board'
Icahn, who controls 8.8 percent of Freeport, said in August he intended to hold talks with the company on "capital expenditures, executive compensation practices and capital structure as well as curtailment of the issuer's high-cost production operations."
"We have had a number of contacts with representatives of Freeport over the past few weeks and commend the board for adopting a number of our recommendations," such as revamping the board, Icahn said in a statement Wednesday.
Under a standstill pact disclosed separately, Icahn's team agreed to confidentiality and non-disparagement conditions that prevent public criticism of Freeport, including on social media. Icahn frequently bypasses standard press releases by tweeting his news and comments, including Wednesday with a post about this deal.
The company agreed not to implement a so-called poison pill below 20 percent ownership, and to improve its window for shareholder proposals to 60 to 90 days ahead of the 2016 annual meeting. The pact prevents Icahn from a proxy fight until 35 days after his directors leave the board, the filing shows. Those measures provide a clearer path, should he choose to launch a proxy fight for greater control of the board.
Placate Shareholders
Natural-resources companies that expanded and diversified when prices were high are now attempting to placate shareholders in the face of a debilitating price collapse. Freeport increased its debt almost sixfold in 2013, as it re-entered the oil and gas business by buying its former businesses McMoRan Exploration Co. and Plains Exploration & Production Co. in deals announced the same day.
With the two additions, the board is comprised of 11 directors: nine independent directors and two executive directors. 
Activist Campaigns
Icahn and his affiliates own about 100 million Freeport shares.
Since January 2014, Icahn has had seven notable activist campaigns: Freeport, Cheniere Energy Inc., Manitowoc Co., Hertz Global Holdings Inc., Gannett Co., Family Dollar Stores Inc. and EBay Inc., according to data compiled by Bloomberg. He has reached settlement agreements in six of those seven campaigns, with five resulting in board seats, the data show.
"Freeport stockholders generally will benefit from our agreement, which restricts the ability of the company to implement a poison pill and permits our representatives to resign from the board at any time and be free of any restrictions," Icahn said in Wednesday's statement.
Freeport shares rose 10 percent to $13.01 at 1:40 p.m. in New York, reducing a year-to-date decline to 44 percent. The S&P 500 Index was up 0.5 percent Wednesday.
Icahn, 79, re-branded as an activist investor and outspoken shareholder advocate after gaining fame as a corporate raider in the 1980s. He is worth more than $20 billion, according to the Bloomberg Billionaires Index, and primarily invests his own fortune, rather than relying on money from outsiders.
In 2013 he started the Shareholders' Square Table website to opine on corporate governance and whatever else is on his mind. Last month, he stepped up this trend, starting www.carlicahn.com featuring a debut video outlining his concerns about politics, the economy and corporations.