markets
FOMC Minutes Guide: From 2015 Liftoff to International Concerns
By
Could show how close officials came to September rate rise

Details on how Fed is looking at labor market slack a focus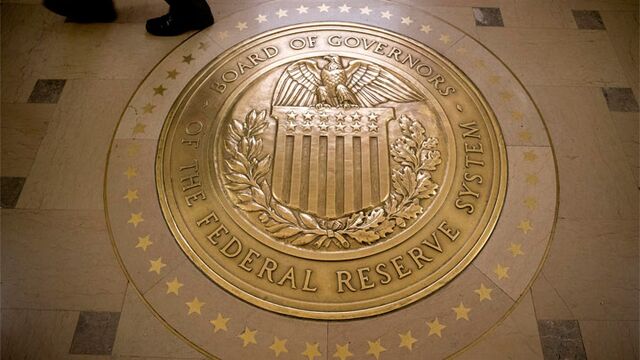 Here's what to look for when the Federal Reserve releases minutes from the Federal Open Market Committee's Sept. 16-17 policy-setting meeting at 2 p.m. Thursday in Washington.
-- A signal about just how near Fed officials were to raising interest rates in September and the arguments that ultimately persuaded them to leave rates unchanged near zero.
Fed officials who have spoken since the meeting, including San Francisco Fed President John Williams and the Atlanta Fed's Dennis Lockhart, have called it a "close call."
"Relative to market expectations, which interpreted the statement as very dovish and are not pricing a rate hike until well into 2016, the minutes could appear somewhat hawkish," Michelle Meyer, deputy head of U.S. economics at Bank of America Corp. in New York, wrote in a research report, noting officials' "close call" comments. "Market participants will be looking for signs of how strongly held this view actually is, and what conditions -- particularly on the global front -- might derail that expectation."
Pricing suggests that investors in federal funds futures see a roughly 40 percent probability of a rate rise by year-end, based on an assumption that the effective funds rate will trade at the 0.375 percent mid-point of the target range following Fed liftoff.
Global Outlook
-- Details about how the tumultuous global financial market informed the Fed's decision not to start raising rates in September. This could offer clues about how the central bank will view weaker growth in emerging economies going forward.

"We hope to get a better sense of just how worried officials were by the Chinese slowdown, especially since the Chinese economic data has only worsened since the September FOMC meeting," Sam Bullard, senior economist at Wells Fargo Securities LLC in Charlotte, wrote in a research note.
The Fed noted in the statement following last month's meeting that "Recent global economic and financial developments may restrain economic activity somewhat and are likely to put further downward pressure on inflation in the near term." 
Since then, the International Monetary Fund has downgraded its forecast for world growth to 3.1 percent in 2015, from 3.3 percent projected in July and 3.5 percent expected in April, according to its latest World Economic Outlook released Tuesday in Washington. While the fund left its forecast for China's growth unchanged, at 6.8 percent this year and 6.3 percent in 2016, it said that "cross-border repercussions" of slowing Chinese growth "appear greater than previously envisaged."
Labor Slack
-- A deeper understanding of how committee members are looking at conditions in the labor market and how much they have tightened. Unemployment is down to 5.1 percent and the broader underemployment rate fell to 10 percent in September, but wages have yet to accelerate.
The minutes describe the internal Fed policy debate prior to the Oct. 2 release of September's disappointing labor market report, which showed a weaker-than-expected performance last month and downward revisions to the number of new jobs added for August. Still, they may be useful as a gauge of how far policy makers believe the job market has come.
If Fed officials express in the minutes that they're broadly comfortable with job gains in a slower range than chalked up by the U.S. on average this year, such as a 100,000-150,000 pace, that could "lend credibility" to the possibility of a 2015 rate increase, said Millan Mulraine, deputy head of U.S. Research and Strategy at TD Securities LLC in New York. 
Mulraine projects a 2016 interest rate increase. San Francisco's Williams has said that he thinks job gains should be slowing to that range as the labor market tightens and that "looking to the future, we're going to need at most 100,000 new jobs each month."

"If the Committee sounds fairly convinced that there has been sufficient improvement in the labor market to start normalization -- perhaps some residual slack notwithstanding -- then that would be a hawkish message for the markets," Bank of America's Meyer wrote. "We expect a divided Committee on the issue of 'hidden slack,' the cyclical nature of the low participation rate, and the signal to take from low wages."
Before it's here, it's on the Bloomberg Terminal.
LEARN MORE