Deutsche Bank Wins Right to Cross Examine 'Billionaire' Vik
by
Deutsche Bank seeking $250 million after failed lawsuit

Norwegian Vik must appear at London court on Dec. 11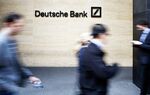 Deutsche Bank AG won a ruling forcing Norwegian entrepreneur Alexander Vik to tell a U.K. judge why he hasn't paid the German lender a $250 million debt stemming from a failed lawsuit.
Judge Jeremy Cooke ordered Vik to appear at the London court on Dec. 11 to answer questions about whether he has lied, hidden assets and transferred his trading company to a friend to escape the debt since losing a lawsuit two years ago, where he was seeking $8 billion over trading losses.
The bank said at a hearing last month that it has evidence that hundreds of millions of dollars had been transferred out of Sebastian Holdings Inc. to companies linked to Vik, and that he had resigned from the firm and transferred it to his best friend. Judge Cooke denied Vik's lawyers permission to appeal.
Deutsche Bank described Vik as a "Monaco-resident billionaire" in its court documents. At a 2014 hearing over costs from the lawsuit, Vik's then-lawyer, Yash Kulkarni, said he was a "wealthy man" but didn't have immediate access to the 36 million pounds ($55 million) in legal fees sought by the bank.
In the U.S. Vik has filed a claim against the bank with a trial scheduled to start in Connecticut in November and there are more U.K. Court of Appeal hearings over costs slated to begin in the same month, Judge Cooke said in his ruling.
"I can see nothing in any of the grounds which are put forward which would justify" Vik not complying with the court order, Judge Cooke said in the ruling handed down in London Wednesday.
Deutsche Bank declined to comment on the ruling while a lawyer representing Sebastian Holdings didn't immediately respond to a request for comment.
Before it's here, it's on the Bloomberg Terminal.
LEARN MORE