Curtis the Skewer-Eating Dog Tops Cat to Earn Pet-Mishap Award
Claire Boston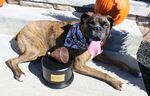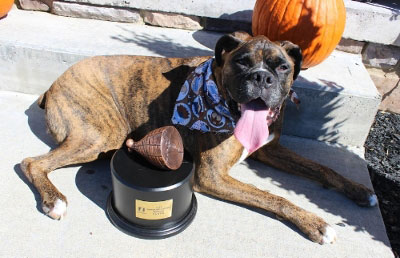 Curtis, a 5-year-old boxer who swallowed a wooden barbecue skewer, beat out a tape-eating cat, a snake-fighting dachshund and nine other animals to win the 2015 Hambone award, a contest for the most unusual pet-insurance claim of the year.
"Curtis has ingested various items in the past, including a Frisbee, but has remained unscathed," Nationwide Mutual Insurance Co. said in a statement. "However, his luck came to an end after he swallowed a wooden BBQ skewer, which disappeared in his body and nearly ended his life more than a year later."
The West Virginia dog sneaked in a treat at Valerie Mould's home where her family was preparing to eat chicken and beef shish kebabs. She was unable to retrieve the stick before Curtis swallowed it in one gulp.
An ultrasound and endoscopy turned up no sign of the wood, but Curtis's health deteriorated months later. Veterinarians conducted surgery to remove a mass that they feared was cancer and discovered that the suspected tumor was actually scar tissue surrounding the missing skewer. Since the operation, he made a full recovery, Nationwide said in a statement Wednesday.
The Virginia-Maryland College of Veterinary Medicine, where Curtis was treated, will receive a $10,000 award from the Columbus, Ohio-based insurer.
Charm, Rocky
Nationwide seeks to highlight the risks to pets as it works to expand coverage of domestic animals. The Hambone award, named for a dog that ate an entire Thanksgiving ham while stuck in a refrigerator, has been given to the most bizarre claim every year since 2009.
Runners up in the contest include second-place Charm, a Persian cat who swallowed more than three feet (0.9 meter) of packaging tape. Rocky, a miniature dachshund who was treated for multiple rattlesnake bites after defending his smaller siblings from an aggressive reptile, took third.
Before it's here, it's on the Bloomberg Terminal.
LEARN MORE