China Dread Loses Bite as Global Shares Jump Most Since 2011
By , , and
Volatility wanes during a week-long shutdown in China

Stimulus measures boost Chinese shares in Hong Kong, U.S.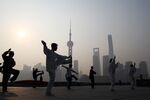 China is no longer such a fearful place for global investors.
As traders prepare for the opening of the world's second-biggest equity market on Thursday after a week-long break, LGT Capital Partners Ltd.'s Mikio Kumada says concern about the nation's slowdown is overdone. The MSCI All-Country World Index began a six-day, 6.5 percent rally on Sept. 30, when the Shanghai Composite Index last traded. The steepest gain for global equities in almost four years came as volatility waned from New York to London.
Over the holiday, China's government unveiled measures to boost the property market while official data showed a factory gauge stabilized at a three-year low. Turmoil in the nation's equities, a shock yuan devaluation and a string of weak economic data roiled global markets in the third quarter.
"All the risks have finally been priced in," said Kumada, a Hong Kong-based global strategist at LGT Capital, whose firm manages $50 billion. "China's economy is not deteriorating to a degree where you should panic."

Chinese shares traded outside the mainland have been among the biggest gainers globally. The Bloomberg China-US Equity Index jumped 11 percent since Sept. 29, while the Hang Seng China Enterprises Index climbed 7.6 percent in Hong Kong through Tuesday. As well as a rally by developers and producers of household goods, automakers surged after the authorities cut a tax on passenger-vehicle purchases.
The Hang Seng China gauge advanced 4.7 percent at the close on Wednesday, capping its best five-day gain in almost six months, while the MSCI All-Country World index added 0.6 percent at 4:13 p.m. in Hong Kong.
Policy Support
Speculation the Federal Reserve will keep interest rates lower for longer and expectations for more policy support from Chinese authorities is helping global equities, according to Tomomi Yamashita, a fund manager at Shinkin Asset Management Co., which oversees $6.3 billion.
Chinese policy makers are increasing targeted stimulus after five interest-rate reductions since November failed to reverse an economic slowdown. The government lowered a property down-payment requirement for the first time in five years, while support measures for the auto industry followed five straight months of declining sales. The odds of a Fed liftoff this month fell below 10 percent after reports in the U.S. last week showed the pace of hiring slowed in September and wage growth stalled.
"There may be expectations there will be more positive measures from China," said Yamashita. "With the recent jobs data, concerns about U.S. rate have been reduced and money is coming back to where it's been sold off too much."
World's Worst
The Shanghai Composite Index tumbled 29 percent in the third quarter, the biggest slump among benchmark global gauges, as an equity boom turned to bust and leveraged traders cut positions. The Hang Seng China Enterprises gauge plunged 28 percent in the second-worst performance. The MSCI All-Country World Index slid 9.9 percent.
For Hiroshi Matsumoto, head of investment of Pictet Asset Management (Japan) Ltd., volatility may return once China's markets resume trading.
The Chicago Board Options Volatility Index -- known as the VIX -- fell to the lowest level since Aug. 20 on Tuesday. Price swings in the Shanghai Composite Index surged to the highest level since 1997 in August, when the VIX jumped the most since at least 1990. The three biggest daily declines for MSCI's global index over the past two months were triggered in part by news out of China, according to data compiled by Bloomberg.
"While China's markets have been shut we've been able to avoid any negative factors coming from there," Matsumoto said. "Even if global sentiment is positive, declines in Chinese stocks make people worry."