Cameron Lays Out Vision for Five Years of Reform, Growth
Thomas Penny and Robert Hutton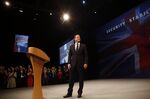 U.K. Prime Minister David Cameron set out his vision for the next five years as his Conservative Party celebrated winning May's general election.
In a speech to his party's annual conference in Manchester, northwest England, on Wednesday, Cameron said the Tories need to "tackle some deep social problems" and detailed plans for housing, prisons and education as he seized on policy areas usually dominated by the opposition Labour Party. While he will not run for premier again in 2020, Cameron has ambitions to change the country, he said.
"I am not going to fight another election as your leader, so I don't have the luxury of unlimited time," Cameron told delegates. "Wages are rising, hope is returning, we're moving into the light. But we're not there yet, we're only halfway through."
The Conservatives are on a mission to create a country of aspiration, security and opportunity, Cameron told delegates after they greeted him with a standing ovation. The prime minister is in a position of political strength having gained an unexpected parliamentary majority in May's general election and with the opposition Labour Party divided after the election of hardline socialist Jeremy Corbyn as its leader.
"There are plenty of Labour members of Parliament who are not convinced of Corbyn's political positioning who will be very worried about the prime minister appearing to grab their territory," Philip Cowley, professor of politics at Nottingham University, said in a telephone interview.
Red Line
The prime minister defended his position, unpopular with many in his party, of wanting to stay in the European Union when a referendum on membership is held before the end of 2017. He remained vague on his demands for the renegotiation of Britain's terms of membership, now offering just a single red line: the removal of the EU's commitment to "ever closer union," at least as far as Britain is concerned.
"I have no romantic attachment to the European Union and its institutions," Cameron said. "I'm only interested in two things: Britain's prosperity and Britain's influence. That's why I'm going to fight hard in this renegotiation, so we can get a better deal and the best of both worlds."
Cameron singled out housing as an area where he has so far failed to deliver, with people under 40 struggling to buy homes. By changing requirements for house-builders, he is aiming for 200,000 "starter homes" to be constructed by 2020.
'Wake-Up Call'
"When a generation of hardworking men and women in their 20s and 30s are waking up each morning in their childhood bedrooms, that should be a wake-up call for us," Cameron said. "We need a national crusade to get homes built. That means banks lending, government releasing land and planning being reformed."
Praising his "iron chancellor," George Osborne, who is favorite with bookmakers to succeed him as prime minister, Cameron warned that the spending review due next month would have to deliver further cuts to government budgets.
"If anyone thinks the battle on the economy is won, they need to think again," he told delegates. "The battle has only just begun. We still need to find savings and produce more; still need to become more competitive; still need to make the most of our entire country."
The prime minister launched a broadside against Corbyn, which brought the biggest ovation of the speech.
"Thousands of words have been written about the new Labour leader, but you only really need to know one thing: he thinks the death of Osama bin Laden was a tragedy," Cameron said. "We cannot let that man inflict his security-threatening, terrorist-sympathizing, Britain-hating ideology on the country we love."
Cameron said he wants his party's time in office between 2010 and 2020 to be "the turnaround decade -- one which people will look back on and say: 'that's when the tide turned, when people no longer felt the current going against them, but working with them."
Before it's here, it's on the Bloomberg Terminal.
LEARN MORE