Brokers Part of Hayes Libor Scheme From Day One, Prosecutor Says
by
Hayes sent brokers messages starting on first day at UBS

`Do me a favor today and get Libors right up,' Hayes said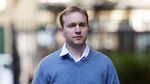 Brokers at ICAP Plc and RP Martin Holdings Ltd. agreed to help Tom Hayes rig Libor from the moment he started trading derivatives at UBS Group AG, prosecutors said.
Darrell Read and Terry Farr began leaning on traders at banks to submit favorable rates on behalf of convicted UBS trader Tom Hayes in the fall of 2006, according to electronic chats presented to jurors on the second day of the trial in London.
"Do me a favor today and get Libors right up," Hayes asked Farr, a former RP Martin broker, on a chat from Hayes's very first day trading at the Swiss bank in September 2006. "Higher in 6m mainly."
"I'll do what I can," Farr replied.
The two men are on trial in London with four other brokers who prosecutors say helped Hayes rig the London interbank offered rate. Hayes, who traded derivatives for UBS and Citigroup Inc. in Japan, was convicted Aug. 3 of conspiring to manipulate yen Libor and sentenced to 14 years in prison. He is appealing the conviction and the sentence.
Less than two weeks after the e-mail to Farr, Hayes asked Read, who worked for ICAP, to try to get the six-month rate up. "Do my best mate," Read replied.
Other chats shown to the jury suggest the two men went on to make good on their promises by reaching out to colleagues and traders at other banks and suggesting the rate will go higher.
Libor is based on a survey in which several of the world's largest banks are asked to estimate their borrowing costs each day at 11 a.m in London. Brokers, who line up buyers and sellers, don't contribute to the rate or directly benefit from where it's set, but are accused of using their position in the middle of the market to influence it on behalf of favored clients.
The trial is scheduled to last 12 weeks and the defendants' lawyers will respond to the allegations at a later point in the case.
Before it's here, it's on the Bloomberg Terminal.
LEARN MORE