Bernstein: This Is Why Chinese Consumers Suddenly Stopped Buying Autos
It's not all about stocks.
by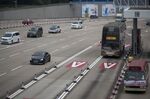 "Something is clearly not right," the note begins.
While purchases in such areas as travel and movie tickets have continued to hum along, the Chinese consumer has suddenly stopped buying cars, according to Sanford C. Bernstein. In order to get a better sense of this seeming conundrum, Bernstein analysts commissioned a survey of 1,000 Chinese car owners and potential buyers. 
Survey questions asked respondents what they thought of everything from job security to the stock market and how recent trends have affected their attitude toward future auto purchases. In order to get the best sampling, the survey focused on highly educated, married consumers (who are presumably more likely to buy cars) spread out geographically. Of 1,000 participants, 70 percent already owned at least one vehicle, while the rest were expected to buy their first car relatively soon.
Here's what the team, led by Senior Analyst Robin Zhu, found.
Over half [59 percent] of the respondents claim that family or friends have deferred car purchases because of the stock market crash (!). Over half of consumers expect car prices to fall further (so may be deferring purchases). License plate restrictions are a big issue in Tier 1 cities (in fact, it's the single biggest issue cited).

While respondents said friends and family members had put off auto purchases because of the slumping equity market, they gave somewhat different reasons for not buying a new car themselves. A deeper breakdown showed that 31 percent of respondents cited "macro-economic concerns" as their biggest reservation, 22 percent mentioned the "widening discounts on cars," and 21 percent noted "license plate restrictions." (Securing a license plate in China can sometimes cost more than a car).
Also interesting is that when the participants were asked why they thought auto sales across the country have slowed, 21 percent cited economic uncertainty and just 19 percent cited the stock market, which just sustained its biggest quarterly loss in four years. The Chinese government has already taken measures to boost vehicle sales. 

However, there is a silver lining for the overall Chinese economy. 
On the other hand, consumers don't actually seem that bearish on the overall economy – 53 percent have become MORE optimistic on the economy in the last 12 months and 50 percent are MORE optimistic on their own job security. 

Bernstein says that this survey leaves it feeling "slightly more optimistic" when it comes to Chinese auto demand, although it does not expect a big acceleration in purchases soon.
Before it's here, it's on the Bloomberg Terminal.
LEARN MORE