Five Things Everyone Will Be Talking About Today
There's a lot going on this morning - time to get caught up
By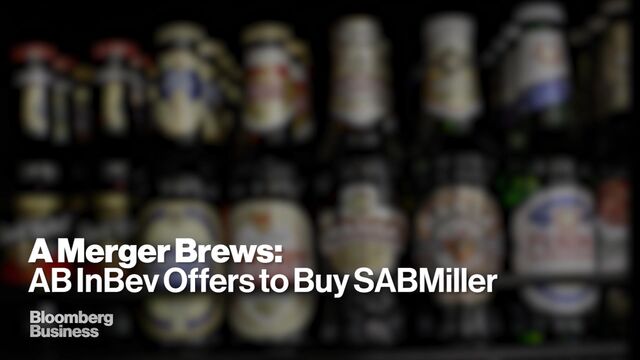 AB InBev increases offer for SABMiller, U.K. manufacturing output rises, and oil is nearing $50 a barrel. Here are some of the things people in markets are talking about this morning.
AB InBev ups offer
Anheuser-Busch InBev NV has upped its offer for SABMiller Plc to 42.15 pounds a share, the company announced in a statement this morning. The increased offer comes after two previous offers were rejected by SABmiller, with that company saying this morning that the new overture is "very substantially undervaluing SABMiller." However, the largest shareholder of the brewer, Altria Group Inc., supports the latest AB InBev offer. SABMiller rose 2.6 percent to 37.18 pounds at 8:10 a.m. in London. AB InBev gained 2.8 percent to 100.80 euros.
U.K. output rises
Industrial production in the U.K. rose more than expected in August, increasing 1 percent from July, ahead of the 0.3 percent increase expected by economists in a Bloomberg survey. The increase was driven by a jump in oil and gas extraction and vehicle production as factories stayed open during the usual August holiday period. The FTSE 100 advanced for the sixth straight session this morning, rising 0.6 percent to 6362.72 at 10:30 a.m. in London. 
Oil approaching $50
West Texas Intermediate crude has surged as much as 2.4 percent to $49.71 a barrel this morning as it closes in on $50 a barrel for the first time since July 29. The commodity is on course for its longest rally since April as industry data showed an unexpected decline in U.S. crude stockpiles. 
More bad news for German industry
Following from yesterday's disappointing factory orders data, German industry got more data this morning showing a slowdown as industrial production unexpectedly fell in August. Output, adjusted for seasonal swings and inflation, fell 1.2 percent in August, well below expectations of a 0.2 percent increase expected by economists in a Bloomberg survey.
Ringgit jumps
Asian emerging market currencies jumped overnight with the Malaysian ringgit surging 3.5 percent to 4.2253 a dollar at the close in Kuala Lumpur, after the country reported its biggest trade surplus in nine months. Indonesia's rupiah closed 3.1 percent higher and the Thai baht advanced 1.3 percent as oil prices increased and expectations for a Fed rate rise in 2015 fell. 
What we've been reading
This is what's caught our eye over the last 24 hours.
 Want to receive this post, and more, into your inbox every morning? Sign up here