pursuits
SABMiller Snubs AB InBev, Says $100 Billion Proposal Too Low
By and
Cash price of 42.15 pounds is `compelling,' AB InBev says

Shareholder Altria supports proposal, urges prompt discussions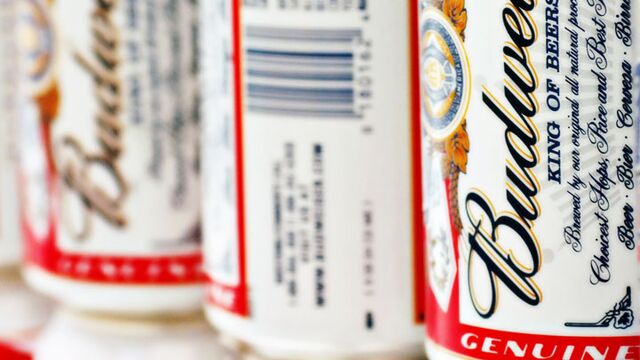 SABMiller Plc rejected Anheuser-Busch InBev NV's 65.2-billion pound ($99.7 billion) takeover proposal as too low, putting it in conflict with its biggest shareholder, which urged the brewer to support the overture.
As with previous offers from the maker of Budweiser, this one had two tiers: AB InBev would pay 42.15 pounds a share in cash for a majority of the stock. The price is 44 percent above SABMiller's closing level on Sept. 14, the day before renewed speculation about a deal. AB InBev proposes paying 37.49 pounds a share in cash and stock for the stakes held by SABMiller's two biggest shareholders, the potential acquirer said.
AB InBev's approach, made public Wednesday after two weeks of closed-door discussions, raises the stakes in the back-and-forth battle over combining the world's two largest beermakers. A merger would create a beverage empire controlling the No. 1 or 2 positions in 24 of the world's 30 biggest beer markets, according to Exane BNP Paribas. The deal, if it goes through, may end up being the fourth biggest acquisition of all time, according to data compiled by Bloomberg.
"This is not, in our view, intended as ABI's concluding proposal," said James Edwardes Jones, an analyst at RBC Capital Markets. "But it is likely to put pressure on SAB's management to engage and at least there is now a formal proposition to discuss."
SABMiller's largest shareholder, Altria Group Inc., with a 27 percent stake, said in a statement that it supported the approach. Altria urged London-based SABMiller's board to engage in talks "promptly" with AB InBev.
SABMiller rose 0.4 percent to 36.36 pounds at 3:40 p.m. in London. AB InBev gained 1.3 percent to 99.37 euros.
Previous Offers
SABMiller, the world's No. 2 beermaker, has already rejected two proposals made privately of 38 pounds a share and 40 pounds a share, AB InBev said. Under U.K. takeover law, Leuven, Belgium-based AB InBev has until Oct. 14 to make a formal offer or it must walk away, and if it doesn't bid it can't renew its takeover effort for six months.
SABMiller's board, excluding representatives of Altria, said in a statement Wednesday that the proposal "substantially undervalues" the brewer.
"We continue to work towards a recommended transaction, it's just that after a couple weeks trying the private route we didn't get any meaningful engagement from the board and with the deadline approaching we felt it was important for SABMiller shareholders to understand the compelling opportunity and look at our proposal," AB InBev Chief Executive Officer Carlos Brito said on a conference call.
Emerging Markets
SABMiller can create more value by remaining independent and pursuing growth in emerging markets such as Africa and Latin America, the company said.
"AB InBev needs SABMiller but has made opportunistic and highly conditional proposals, elements of which have been deliberately designed to be unattractive to many of our shareholders," SABMiller Chairman Jan du Plessis said in a statement earlier Wednesday, while the company was still reviewing the proposal.
After years of speculation, the approach was hastened by the impact of slowing economies in the emerging markets of China and Brazil and after a decade of consolidation in the industry eliminated smaller targets. A 20 percent drop in SABMiller shares in the months preceding AB InBev's approach and the prospect of an end to cheap credit also served as catalysts.
Brewers face their biggest challenge in half a century as consumers shift from mid-range mass-produced beers either to premium, microbrew or discount products, McKinsey & Co. analysts said in a report in June.
Tax Savings
AB InBev, in its statement, said it had a two-decade "proven track record" of completing big acquisitions and meeting the goals it had set for those deals. Acknowledging that a deal would face antitrust scrutiny, AB InBev said the two companies' businesses have complementary geographic footprints, and it would work with authorities to win the needed regulatory approvals.
Under the cash-and-stock alternative, shareholders owning 41 percent of SABMiller could opt for the lower payout. While accepting some stock would reduce the tax hit that would come from selling for cash, it also lowers the price that AB InBev would have to pay. 
A formal offer is conditional on Altria and SABMiller's second-largest shareholder, the family of Colombian investor Alejandro Santo Domingo, accepting the partial share alternative, AB InBev said. Those two investors own just less than 41 percent.
AB Inbev's Brito said the company's proposal was crafted with input from BevCo Ltd., the Santo Domingo family holding company that owns a 14 percent stake in SABMiller. AB InBev doesn't have the support of BevCo, the potential acquirer said in a statement. An assistant to Alejandro Santo Domingo didn't immediately respond to a request for comment. 
World Domination
The transaction would be the biggest of 2015, which has already been a bumper year for dealmaking, according to data compiled by Bloomberg. Together, AB InBev and SABMiller would outrank all other consumer-staples companies by earnings, according to the Exane BNP Paribas analysts, who estimate the combined company would make $25 billion before interest, taxes, depreciation and amortization in 2016.
AB InBev would finance the deal with cash on hand and by borrowing. Lazard Ltd. and Freshfields Bruckhaus Deringer LLP are advising AB InBev on its potential bid. SABMiller is being advised by Robey Warshaw LLP, JPMorgan Chase & Co. and Morgan Stanley.
— With assistance by Blake Schmidt, and Janice Kew
Before it's here, it's on the Bloomberg Terminal.
LEARN MORE