Attacks on Saudi-Led Coalition in Yemen Leave 15 Soldiers Dead
by
Yemen's prime minister, officials unhurt after hotel was hit

Four U.A.E. troops among dead; one Saudi soldier also killed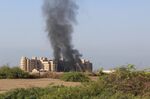 Bombs exploded at a hotel housing Yemen's prime minister and other targets in the southern port city of Aden, killing 15 Yemeni and coalition troops in the first major attack on their bases since the city was recaptured from Houthi rebels in July.
Four of the dead were from the United Arab Emirates, the U.A.E.'s official WAM news agency reported. A Saudi soldier was also killed, Saudi-owned Al Arabiya television said. Prime Minister Khaled Bahah and other officials were unhurt. Islamic State claimed responsibility for what it called four suicide bombs in a statement circulated on Twitter.
Yemen's state television said an investigation showed that the blasts were caused by car bombs, after earlier reports referred to missile attacks. The state broadcaster didn't attribute blame directly, though it said that Shiite Houthi rebels and their allies among forces loyal to former President Ali Abdullah Saleh were responsible for fomenting "extremism and violence."
The seizure of Aden was the first real victory for the Saudi-led coalition after a four-month bombing campaign and a largely unacknowledged deployment of ground troops. It enabled Yemen's Saudi-backed President Abdurabuh Mansur Hadi, driven into exile by the rebels early this year, to return to his country for the first time in months.
"This is a serious escalation," Farea al-Muslimi, visiting scholar at the Carnegie Middle East Center in Beirut, said by phone. "If Aden is your sample haven and you can't secure it, it doesn't send a good message to the rest of Yemen which is still under Houthi control."
When Hadi visited Aden last month, he was guarded by coalition forces at the al-Qasr Hotel hit on Tuesday. Troops and armored vehicles stood guard outside, and there were large sandbags by the front gate. Inside, Bahah has held meetings with southern leaders and fighters as the government tries to restore its rule over a country struggling through years of political and economic turmoil.
In Yemen's central oil-rich province of Marib, 40 government troops and tribal fighters were killed and 137 others wounded in battles with Houthi fighters, the pro-government forces media center said in an e-mailed statement on Tuesday. Troops backed by coalition forces and airstrikes captured several positions from rebels and forces aligned to former President Saleh, the government said in the statement.
The coalition suffered its worst losses to date when at least 52 Emirati soldiers were killed in a missile attack in Marib last month.
"The coalition losses are still relatively small for this sort of war," Ghanem Nuseibeh, founder of Cornerstone Global Associates, which advises clients on risk in the Middle East, said by phone. "The Houthi militias will do all they can to unsettle the situation."
The Shiite Houthis, who said for decades they'd been marginalized by the central government, took over most of Yemen's capital, Sana'a, in September last year. They accused Hadi's administration of failing to confront the Sunni militants of al-Qaeda, whose presence in the nation has grown.
Before it's here, it's on the Bloomberg Terminal.
LEARN MORE