Yale Endowment Model Thrives as Swensen, Proteges Post Top Gains
By and
Private equity, venture capital investments boosted gains

Princeton, MIT, Bowdoin each had returns of more than 12%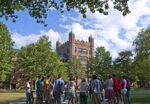 The strongest university endowment returns so far this year are from Yale University and managers who once worked there.
The one thing tying the best-performing institutions together: David Swensen, the longtime investment chief at Yale. He pioneered a model that favors a longer investment horizon and committing capital to illiquid investments such as hedge funds and private equity that often provide higher returns.

"Yale has a global approach and they have great managers and there are times when they perform unusually well," said Jonathan Hirtle, chief executive officer of Hirtle Callaghan & Co., which is based near Philadelphia and manages more than $25 billion for wealthy families and institutions such as colleges.
Princeton University's Andrew Golden, Massachusetts Institute of Technology's Seth Alexander and Bowdoin College's Paula Volent all worked in Yale's investments office before leaving to run other endowments. Swensen didn't respond for a request for comment on the returns.

Bowdoin posted the highest return so far this year at 14.4 percent. MIT's fund gained 13.2 percent while Princeton was up 12.7 percent. Yale's return was 11.5 percent. All returns are for the year ended June 30 and were well above an industry benchmark of 3.6 percent.
Network Expands
The strong showings this year boost the already high value attached to veterans of the Ivy League school's investment office, executive recruiters said. That network has grown in the past two years as Stanford University and the University of Pennsylvania hired endowment chiefs who once worked under Swensen as they seek to boost performance.
"They're not only really talented people, they have a badge of honor," said Debra Brown of New York-based Russell Reynolds Associates, which helped hire Peter Ammon for the University of Pennsylvania. "They're viewed to be very well trained."
The success of the Yale investment strategy led to a transformation of almost every large college portfolio over the past two decades, from a simple mix of stocks and bonds to heavy weightings of alternative investments.
The endowment model came under scrutiny when schools including Yale and Harvard posted losses of more than 20 percent for the year ended June 2009. In the years after, wealthier schools often struggled to stand out from institutions with smaller, less sophisticated endowments as publicly-traded domestic stocks rebounded, often beating alternative investments.
The strategy was a winner this year. Stanley Druckenmiller, the billionaire hedge fund manager who has served on Bowdoin's investment committee for years, said in an interview last month that the $1.4 billion endowment of the Brunswick, Maine, school stood out because it had stakes in the "right private equity managers and I mean the right ones that bore fruit."
'Outlier Returns'
He also said the hedge fund portfolio "was outstanding" primarily because some macro managers had "outsize, outlier returns taking advantage of the decline in oil and currencies." He declined to name the funds. Volent has led Bowdoin's investment office since 2000 after receiving an MBA from Yale and working for Swensen for four years.

Private equity -- particularly venture capital funds -- have outperformed. For the year through March 31, venture capital returned 20.2 percent, according to an index compiled by Cambridge Associates. U.S. real estate gained 13.9 percent through June 30, according to an index by the National Council of Real Estate Investment Fiduciaries. The Standard & Poor's 500 Index gained 4.5 percent for the year through June 30.
Yale said in a statement that its highest returning asset class over the past decade was venture capital at an average annual gain of 18 percent. It hasn't disclosed annual performance of the different sectors yet. It also said it was increasing allocation targets for absolute return this year along with bonds and cash while lowering what it expects to invest in real estate and private equity.
The size of the university's endowment reached $25.6 billion as of June 30, making it the second-largest behind Harvard.
The Princeton endowment had success this year in biotechnology, health care, venture capital and emerging markets, according to a school spokesman. Golden, the investment chief since 1995, didn't respond to a request to elaborate on the returns. The fund grew to $22.7 billion this year, surpassing Stanford to become the fourth-largest college endowment in the U.S.
Foreign Equities
MIT similarly disclosed little beyond its bottom line performance. Alexander, who has overseen the $13.5 billion fund since 2006, didn't respond to e-mails requesting comment. The university's annual financial report released last month shows steep increases in investments in foreign equities.
Swensen and his acolytes are especially good at picking investing talent, said Tim Keating, president of Keating Wealth Management, an investment adviser based in Greenwood Village, Colorado.
"What makes Yale tick is their ability to get great managers," Keating said. "These are Swensen's offspring. They have been inculcated, nurtured by the master. They're really the next generation."