Who Says Donald Trump Can (and Can't) Win the Republican Presidential Nomination?
Politicians, pundits, and media figures have weighed in on whether the Donald can get the Republican nomination, or if he's just doomed.
By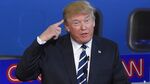 Donald Trump still leads the Republican presidential field, but as his polling lead narrows, political observers continue to wonder whether the real estate mogul and rule-breaking candidate has a shot at winning his party's nomination, let alone whether he is a threat to make it all the way to the White House.
On Sunday, for instance, Trump was asked on Meet the Press whether he was in the race "for the long haul," according to a transcript. He answered that he wouldn't have much reason to continue if he saw himself "dropping in the polls." While that line prompted speculation that Trump might be getting tired of campaigning, on Tuesday he went on CNN to declare that he's "not going anywhere."
As the race continues to develop, the question of whether the current GOP front-runner will be ultimately be seen as a viable contender for the nomination is a matter of ongoing debate. Here is a roundup of those who say The Donald has a chance of winning—and those who say he does not. 
He can win
A majority of likely Republican voters
Specifically, 58 percent of them said it was "likely" he'd be the nominee as recently as an Oct. 2 Rasmussen poll, although that number was 66 percent in early September, when a majority of unaffiliated voters also said Trump would get the nod. Men, the middle aged and whites tend to be surest Trump can win. "The more a voter disapproves of President Obama's job performance, the more confidence he or she has that Trump will end up as the Republican standard-bearer next year," the pollsters reported.
Bill Clinton
"He's a master brander," the husband of the Democratic front-runner told CNN in September. "When you've got a lot of people running and people are trying to make distinctions, being able to make a personal stamp on it so people identify with you counts for something, certainly in the beginning." Asked if he thought Trump could win the Republican nomination, Clinton replied, "I think so."
The former president reportedly chatted with the billionaire this past spring, when he was considering a run, and encouraged him play a larger role in the Republican Party, according to the Washington Post.
Howard Stern
"He's proven that no matter what he says, people dig him," the SiriusXM radio host said on his show back in August, according to the Hill. "I think more or less, people are super tired of politicians, meaning that they like the idea of a successful businessman running the country who might actually be able to get s--- done," he said. Stern, who has often hosted the mogul on his show, said Trump's negative comment about Mexican immigrants would animate people, but the broadcaster also predicted Trump would have a hard time governing.
Ann Coulter
"I can see him more than I can see any of the other ones winning the nomination and winning the presidency right now, certainly winning the presidency," the conservative pundit told Fox's Sean Hannity in July. Coulter, who has introduced Trump on the campaign trail, has said she supports the billionaire because of his immigration stance. 
Ed Rollins
The veteran Republican strategist, who managed President Ronald Reagan's 1984 reelection campaign, wrote in Reuters Aug. 17 that "Trump has to build a state-of-the-art campaign if he wants to continue to do well and have the possibility of winning the nomination." Rollins said, however, that Trump had an advantage because "voters are fed up with the status quo. Many think the other candidates, mostly former or current elected officials, are part of the problem."
Scott Adams
In an Oct. 6 interview, the "Dilbert" creator told Reason magazine: "What I see in Trump is a set of skills that are so deep and so exquisite, it would be hard for me to imagine anybody beating him, and so I've predicted he'll go all the way and win the presidency." Dilbert calls Trump "a Master Wizard" who has "a linguistic gift for influencing people."
Matthew Yglesias
The Vox.com co-founder wrote in September that a path for Trump included more appearances on conservative radio, courting of national security hawks, smart staff acquisitions, and policy wonkery. "The odds against him remain daunting given the way he's alienated the Republican Party's dominant tax cuts uber alles faction, but his combination of wealth, celebrity, and apparent popularity against the GOP rank and file gives him at least a sliver of the shot," Yglesias wrote. 

He can't win
Mitt Romney
"I will support the Republican nominee," the party's 2012 nominee told the Atlantic's Washington Ideas Forum in September, according to Politico. "I don't think that's going to be Donald Trump." He said that the GOP "has historically nominated someone who's a mainstream conservative."
Larry King
The veteran broadcaster told an audience in Israel in August that he has known the mogul "a long time" but does not think he could win, according to the Jerusalem Post.
Nate Silver
Way back at the beginning of August, the editor of FiveThirtyEight.com and polling guru said Trump's effort might not fail quickly but, like other "fringe" candidacies that enjoyed early leads, "Trump's campaign will fail by one means or another." More specifically, Silver pegged Trump's odds of even winning the Republican nomination at just 2 percent because of the "gantlet" of the nominating process.
Michael Moore
The outspoken liberal documentarian said on Oct. 3 that demographics would end Trump's aspirations, according Business Insider. "Seventy-nine percent of the United States are either women, people of color, or people between the ages of 18 and 30," he said. "That's the blocks you have to win to get elected. Donald Trump, he has none of those blocks."
Larry Sabato
The director of the University of Virginia's Center for Politics and author of the widely read "Sabato's Chrystal Ball" newsletter wrote in September that Trump prompts "blue language" from party big-wigs. "You had better believe that GOP leaders will do everything in their power, mainly behind the scenes, to ensure that Trump is not their standard-bearer." He added that "there is no way on God's green earth that the Republican Party hierarchy is going to allow Donald Trump to be their nominee for president if they have enough power to stop him." With the GOP's forces uniting to thwart the billionaire, Sabato argues that the "near-unanimity of leadership opinion should be enough to defeat Trump one way or the other."
"Top operatives, strategists and activists in Iowa and New Hampshire"
Politico's August survey of these semi-anonymous insiders showed six in 10 of the Republicans said Trump couldn't win their state.