Who Says Donald Trump Can (and Can't) Win the Republican Presidential Nomination?
Politicians, pundits, and media figures have weighed in on whether the Donald can get the Republican nomination, or if he's just doomed.
By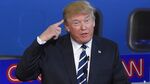 Donald Trump still leads the Republican presidential field, but as his polling lead narrows, political observers continue to wonder whether the real estate mogul and rule-breaking candidate has a shot at winning his party's nomination, let alone whether he is a threat to make it all the way to the White House.