Vienna Socialist May Fall to Refugee Crisis in Landmark Poll
by and
Social Democratic rule at risk for first time since 1945

Voters frustrated by wage stagnation, rent hikes, immigration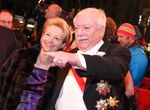 Vienna's mayor may be about to become the first politician in Europe toppled by the refugee crisis that is straining relations and upsetting voters from Britain to the Balkans.
Michael Haeupl's Social Democrats are seeing their grip on Austria's capital threatened for the first time since World War II as people already frustrated by rising rents and stagnant wages turn to the anti-immigrant Freedom Party to stop a sudden influx of refugees. 
While the Social Democrats, who've won every free election ever held in Vienna, could still claim about 38 percent support in the Oct. 11 vote, the Freedom Party has crept to within striking distance at 34 percent, according to an OGM poll with a 3.4 percentage-point margin of error.
With leaders like Germany's Angela Merkel and David Cameron in the U.K. scrambling to find a response to the surge of migrants from war-torn Syria, Heinz-Christian Strache's Freedom Party has made gains by relentlessly attacking the four-term mayor's inability to reverse negative social and economic trends that undercut Vienna's reputation as an attractive place to live and work.
"The image of Vienna as an open, cosmopolitan city is in contradiction with the rise of the Freedom Party," said Franz Schellhorn, the director of Agenda Austria, an independent policy-advisory group, in an e-mail. "Vienna as a place of business is becoming less attractive."

Voters among Vienna's 1.8 million inhabitants listed the refugee crisis, unemployment and rising living costs as the top three issues they're weighing before casting ballots, according to the OGM poll. Tens of thousands of refugees arriving in Vienna this year will add to a migrant population that already makes up 40 percent of the city's inhabitants, spurring concern that the country's capital is losing an Austrian identity.
"We want to keep our culture," Strache, 46, a former dental technician, told a largely male crowd drinking beer and waving Austrian flags at an Oct. 1 gathering in Vienna's poorest district. "Others want to abolish it."
Highest Unemployment
Strache asserted in an Oct. 6 nationally-televised debate that the majority of refugees are economic migrants who don't qualify for asylum and have crossed Austria's borders illegally. While Haeupl has disputed this position and advocated helping the scores of Afghans, Iraqis and Syrians fleeing violence, the accusations have gained traction among Freedom Party supporters struggling to find jobs or afraid of losing theirs.
Refugees fleeing real persecution are just as welcome as migrants who are needed in the labor market, Freedom Party spokesman Toni Mahdalik said Tuesday by telephone. Mercer International, whose consultants have named Vienna the world's most livable city for six straight years, said in an e-mail statement that it's "monitoring the situation closely" to determine whether the city's political climate impacts expatriates security.
Vienna has the highest unemployment rate among all nine Austrian provinces. Men, who made up two thirds of Freedom Party voters in Austria's last provincial election, earn less in the capital than nationwide. The rising number of foreigners arriving in the city, many of whom are just learning German and don't have skills sought by the labor market, helps to foster anxiety over jobs and pay.

"It's not going well for normal citizens," said a graying 56-year-old office manager, who asked to be identified only as Mr. Kastner, at Strache's Oct. 1 rally. "Everything from education to family has just gotten worse. It needs to change."
Even as municipal planners forecast Vienna will grow by over 200,000 in the next seven years -- equivalent to adding another Salzburg-sized city to the mix -- its housing stock hasn't kept up with demand. That in turn has resulted in a widening gap between rising rent and stagnant salaries.
As interest rates fell to record lows, investors sought a haven in Vienna's real estate market, where prices almost doubled since 2005, according to the central bank. During the same period rental prices have grown at three times the rate of pay raises.

To ease market pressure, the Social Democrats are promising to revive a social housing program whose roots go back to the 1920s and shelters about 500,000 people today. Vienna should play a more active role on the housing market, just like the government should regulate financial markets, Haeupl, 66, said on the campaign trail.
But the mayor's policy response is struggling to keep up with the pace at which the refugee crisis is developing. His fate in Sunday's vote may prove a harbinger for leaders across the rest of the country and beyond.
"The traditional leftist working-class party is being challenged by a new type of populist-rightist party with at least a latent xenophobic agenda," Anton Pelinka, a political scientist who has studied the rise of the Freedom Party, said via e-mail. Vienna's election will have "particular consequences for the whole of Austria."
Before it's here, it's on the Bloomberg Terminal.
LEARN MORE