Pacific Trade Deal Seen Cutting Japan Food Costs on Tariffs
by
Japan agrees to reduce duties on imports of beef, pork

Mitsubishi, Marubeni, Itochu seen to benefit from TPP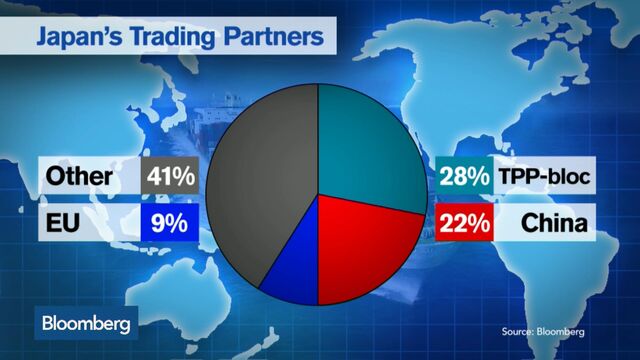 Food costs for Japanese consumers, who depend on imports for about 60 percent of what they eat, will decline after the government agreed to lower tariffs on meat and relax some import restrictions on rice and dairy to conclude Pacific trade talks.
Tariffs on beef bought from the U.S. and other Trans-Pacific Partnership members will be cut to 9 percent in the deal's 16th year from 38.5 percent, according to Japan's economy minister Akira Amari. Duties on pork will be reduced to 50 yen (42 cents) a kilogram over a decade from a maximum of 482 yen. Japan will also create a non-tariff import quota for 78,400 metric tons of rice, and a low-tariff quota for milk powder and butter equivalent to 70,000 tons of raw milk, the Agriculture Ministry said in a statement.
The measures may help boost sales for meat exporters including Tyson Foods Inc., while aiming to protect Japanese farmers from a surge in shipments from abroad. Japan is allowed to return beef and pork tariffs to previous levels if imports jump, Agriculture Minister Yoshimasa Hayashi said Tuesday. The compromise will pave the way for Japanese lawmakers to approve the deal for ratification by the government, according to Marubeni Corp.'s research institute.
"The agreement will help reduce costs for Japanese food makers, retailers and restaurants, and will also deepen Japan's reliance on food imports," said Tetsuhide Mikamo, director at Marubeni Research Institute. "For Japanese farmers, the deal means they should rationalize operations for cost-cutting, otherwise, they will end up with exit from the market."
Imports
Japan imports about 60 percent of its beef, and about half of its pork. Lower tariffs could help reduce costs for food processors including NH Foods Ltd. and retailers such as Aeon Co. The Bank of Japan's record stimulus has weakened the yen by 9.7 percent against the dollar in the past year, making imported food more expensive.
The trade accord will benefit distributors, warehouse operators and trading houses including Mitsubishi Corp., Marubeni and Itochu Corp., SMBC Nikko Securities Inc. said Monday. The deal would boost the trading volume of products ranging from automobiles to agriculture, it said. Marubeni shares climbed 2.5 percent in Tokyo and Itochu rose 1.4 percent.
The TPP may also spur Japanese companies' investment in food-production facilities in other member countries, such as meat processing plants in Australia for exports to Japan and other Asian nations, Mikamo said. It is cheaper to raise animals in countries with vast land and abundant feed grains than in Japan, he said.
"We have done the best possible efforts in the negotiations, under very strong pressure from beef-exporting countries such as the U.S. and Australia to eliminate tariffs," Hayashi told reporters in Tokyo. "We are aware that producers are concerned about a negative influence of the agreement on their businesses. We will take every possible measures to ensure they will continue production."
Meat, Dairy
Australian red meat and livestock groups welcomed the deal, with the sectors to benefit from improved market access, industry bodies including the Cattle Council of Australia and the Australian Meat Industry Council said in a statement. TPP members account for about 52% of Australia's beef, sheep meat and offal trade, it said.
Increased dairy purchases will help ease a butter shortage in Japan, according to Takaki Shigemoto, an analyst at researcher JSC Corp. Japan agreed to import 3,188 tons of butter in the first year of the TPP and raise purchases to 3,719 tons in the sixth year, according to the Agriculture Ministry.
"While I am very disappointed that the deal falls far short of TPP's original ambition to eliminate all tariffs, there will be some useful gains for New Zealand dairy exporters in key TPP markets such as the U.S., Canada and Japan," John Wilson, chairman of Fonterra Cooperative Group Ltd., the world's biggest dairy exporter, said in a statement.
Rice
Rice imports from the U.S. may increase by as much as 50,000 tons a year in the first three years of the TPP deal, and by as much as 70,000 tons a year in the 13th year, according to Japan's Agriculture Ministry. Purchases from Australia may rise by as much as 6,000 tons a year for the initial three years and by 8,400 tons in the 13th year.
Japan currently imports 770,000 tons of rice a year to comply with the World Trade Organization agreement, with almost half coming from the U.S. last fiscal year. The government plans to buy Japanese rice equivalent to the import volume agreed to under the TPP deal for state reserves to support local prices, Agriculture Minister Hayashi said.
"The TPP agreement on agriculture is seen as tough for farmers," Choue Okuno, chairman of JA-Zenchu, Japan's largest farm lobby, said in a statement. "The government should take sufficient measures to ensure domestic agricultural production will remain sustainable."
Before it's here, it's on the Bloomberg Terminal.
LEARN MORE