Fashion
Tim Gunn Hates It When You Wear Gym Clothes on the Street
"It's vulgar," he says. "Unless you're Robin Hood."
By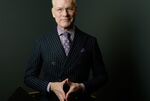 Four years ago, fashion icon Tim Gunn scoffed when he was asked about the budding trend of people wearing leggings and yoga pants on the street. Nowadays, you can't stride down a sidewalk without seeing all kinds of athletic gear adorning people on their way to the pilates studio, grocery store, or work. Casual clothes have caught on. Heck, you can buy emoji-print leggings at Saks Fifth Avenue.
So does Gunn still hate it when people wear those neon racerback tanks or jet black Spandex bottoms on the street? I get a deluge of sass when I ask him.
"It's vulgar," says Gunn. "Unless you're Robin Hood." 
We're inside a tent in the shadow of New York's Flatiron Building for an event with Transitions, the lensmaker he has teamed up with. Ducking away from an endlessly refreshed meet-and-greet line, Gunn is fully buttoned-up, as usual; despite this September day's oppressive humidity, he's armored with a navy double-breasted suit. Gunn knows he's getting older, at 62, and he may sound stubborn, but he insists it's still important to present yourself respectably. Gym clothes won't do.
"When did the leggings become a pant?" Gunn asks with an incredulous look. He wholly accepts stretchy leggings the way they were traditionally worn, as a layer underneath whatever else you're wearing. And they're fine while you're working out. Just change before you leave the gym.
Comfort isn't an valid excuse, either, says Gunn. There are plenty of clothes you could wear that are cozy— say, a Diane von Furstenburg wrap dress, which has the stretch but remains sleek and chic. 
Unfortunately, the Project Runway mentor will probably be rolling his eyes for a while; it seems the torrent of Spandex isn't stopping soon. All kinds of fashion labels are now making activewear, hoping to ride the wave, from designer names like Stella McCartney and Tory Burch to such mass market tags as Old Navy and H&M. Activewear is even poking into the luxury realm, with new brands charging $400 or more for their leggings and yoga pants.
It comes down to the occasion, Gunn says. Wear what's appropriate for what you're doing. Just as a swimsuit belongs at the pool or the beach, workout gear belongs at the gym, unless you're jogging down a sidewalk. Leggings as pants? You're basically wearing underwear, he says, and how does that make others perceive you? Even if you're just out running errands, what if you run into your boss, or an ex? 
"That's the thing about overly casual dressing," says Gunn. "It says: 'I don't give a rat's ass about anything.'"
Before it's here, it's on the Bloomberg Terminal.
LEARN MORE