Tesco Accelerates Some Supplier Payments in Bid to Restore Trust
by
CEO Lewis standardizes payment period for grocery suppliers

Tesco's smallest vendors to be paid quickest after changes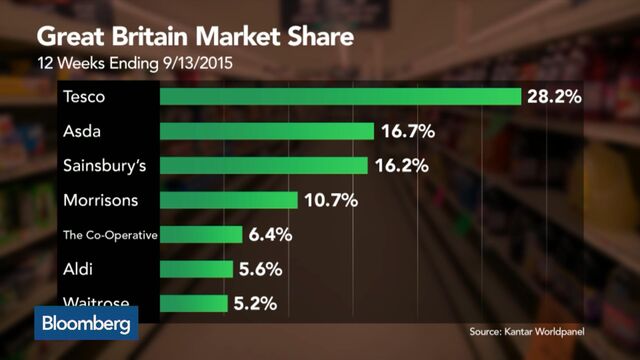 Tesco Plc plans to accelerate payments to some suppliers as Chief Executive Officer Dave Lewis seeks to restore the grocer's battered reputation in the wake of an accounting scandal that called the company's dealings with vendors into question.
Tesco will pay its 3,000 U.K. suppliers of meat, pet food and other groceries within a preset period, the company said Tuesday. The changes prioritize the smallest suppliers, who will typically get paid 34 days faster than before. Suppliers who deliver as much as 100,000 pounds ($152,000) worth of products per year will be paid within 14 days, while mid-sized manufacturers will have their accounts settled five days quicker than bigger companies in their category, Tesco said.
The changes -- which take effect at the end of June and won't affect overseas suppliers -- will help Tesco deliver a "fairer, more transparent and consistent approach across our supply base," Lewis said at an industry conference. The company is scheduled to report first-half results tomorrow.
The standardized payments are a break from the past for Tesco, which had become increasingly reliant on one-time payments from suppliers in return for product promotions. Last year the company disclosed that it had overstated its profit forecast after booking income from suppliers before it was earned and delaying the recognition of costs. Lewis took the helm twelve months ago, pledging to increase transparency and rebuild trust in the company.
Mid-sized suppliers of fresh vegetables, meat or fish will be paid within 23 days, while smaller vendors will get their payment in 14 days, Tesco said. The changes will necessitate some additional short-term investment to improve cash flow across the supply chain, the company said.
Tesco rose 3 percent to 192.15 pence at 4:03 p.m. in London today.
Before it's here, it's on the Bloomberg Terminal.
LEARN MORE