Starboard's Smith Says Yahoo Price a 'Terrific Opportunity'
Beth Jinks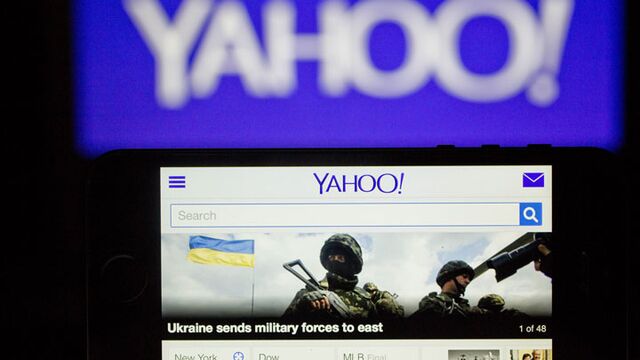 Jeff Smith, whose activist fund Starboard Value urged Yahoo! Inc. to spin off its stake in Alibaba Group Holding Ltd., sees the Web portal's recent stock drop as a buying opportunity because the price reflects a fully taxed separation.
"Our view is that it pretty much reflects the worst-case scenario in terms of full taxation," Smith said Tuesday at Bloomberg Markets Most Influential Summit in New York, in an interview with Erik Schatzker. "We think it's a terrific opportunity right now."
Yahoo announced in January it planned to spin off its Alibaba stake in a tax-efficient way, amid Starboard's activist campaign. Tax authorities haven't given assurances since then that the transaction will be tax-free.
The Sunnyvale, California-based company said last month it was on track to spin off its Alibaba stake -- today worth about $22 billion -- this year. The board authorized pursuing the spinoff, even though the U.S. Internal Revenue Service declined to grant the company an advance ruling blessing the deal, Yahoo said in a filing.
"Yahoo stock went up after the Alibaba IPO and Alibaba went up, and then Alibaba has come back down, and Yahoo moves really to some degree in line with Alibaba," Smith said Tuesday. "As it relates to the expectations for that spinoff, where the stub trades today -- which is Yahoo less the portion of Alibaba -- is really not reflecting any value."
Shares of Yahoo dropped 30 percent through Monday since May 18, before the announcement about the new scrutiny from the IRS. Shares of Alibaba fell 27 percent in that period.
Starboard nearly halved its Yahoo stake in the second quarter, selling 3.3 million shares, leaving it with 3.55 million, according to an Aug. 14 filing with the U.S. Securities and Exchange Commission.
Office Rivals
The activist also recently pushed office-supply rivals Staples Inc. and Office Depot Inc. to merge, a $6.3 billion deal that faces scrutiny from antitrust regulators in the U.S. and Europe.
A merger of Staples and Office Depot would leave the U.S. with one major office-supply chain. The U.S. Federal Trade Commission has been studying the impact on large corporate customers, people familiar with the matter told Bloomberg News recently. A decision could come next week.
Antitrust Block
"We're excited about the possible combination of Office Depot and Staples and based on the merits as we've looked at it, which is why we advocated for it and why we own the position, we do think it makes sense for it to go through," Smith said Tuesday. He declined to comment on whether he'd back the companies should they need to fight an antitrust block.
"We will certainly have conversations with them, if and when the time comes, should that happen," he said.
Starboard -- arguably the most prolific U.S. activist -- typically targets small- and mid-cap public companies it considers undervalued, pushing executives and directors for changes such as unit spinoffs and asset sales.
Last week, Smith revealed a new active stake in Advance Auto Parts Inc. and said it will discuss ways to improve the business with management. In July, Starboard went public with an activist campaign at Macy's Inc., arguing the department-store chain should better capitalize on its real estate.
Before it's here, it's on the Bloomberg Terminal.
LEARN MORE