Schaeuble Sees Limit to `Nervous' Germany Welcoming Refugees
by and
Top Merkel aide says absorbing 10,000 a week is `impossible'

Situation `fragile' as Merkel says Germany can handle influx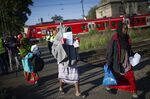 German Finance Minister Wolfgang Schaeuble said his country's ability to absorb refugees is limited, citing an "underlying nervousness" in the nation amid the biggest influx since World War II.
Dealing with some 10,000 arrivals a week is "impossible," and Germany can't continue to take in the same number of refugees in a week that France accepts in a year, Schaeuble said on a panel at Sciences Po university in Paris on Tuesday.
"We have a very nervous and fragile situation in Germany," Schaeuble told the student audience. Even so, he said, German Chancellor Angela Merkel "is saying, 'We will do it.'"
Schaeuble's comments are the latest warning from within Merkel's governing coalition that the stream of people fleeing war and poverty risks overwhelming Germany. While at least 800,000 refugees are expected to arrive this year, Merkel says Europe's biggest economy must live with the influx and deal with the challenge.
The tide of refugees "must be managed," and it's crucial to secure the European Union's outer borders such as the Greek-Turkish frontier, Schaeuble said.
Peter Altmaier, Merkel's chief of staff, is presenting a cabinet plan on Wednesday to coordinate the federal response, a government spokeswoman said, in a sign that Merkel is seeking closer day-to-day control over the refugee crisis.
Before it's here, it's on the Bloomberg Terminal.
LEARN MORE