PepsiCo Profit Tops Estimates as North American Sales Gain
by
Company raises earnings-per-share forecast for the year

Revenue of $16.3 billion exceeds analysts' projections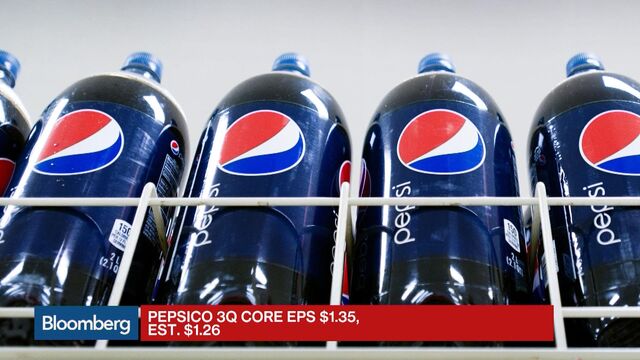 PepsiCo Inc. posted third-quarter profit that topped analysts' estimates and raised its forecast for the year after North American snack and beverage sales climbed, helped by higher prices.
Earnings were $1.35 a share in the three months ended Sept. 5, excluding some items, the Purchase, New York-based company said in a statement on Tuesday. Analysts estimated $1.26, according to data compiled by Bloomberg.
Chief Executive Officer Indra Nooyi has been cutting costs and seeking new sources of growth from emerging markets, but it was the snack and beverage giant's domestic units that carried the company in the quarter. The Frito-Lay and beverages divisions in North America were its only two units to boost revenue, aided by a 2 percent increase in prices.
"They're pretty levered to the U.S. consumer, which relative to the rest of the world is doing OK," said Rob Plaza, an analyst at Key Private Bank.
PepsiCo said earnings per share, excluding acquisitions, divestitures and currency effects, will grow 9 percent this year. That's up from a forecast of 8 percent in July.
Shares Rise
The shares rose 1.3 percent to $97.07 at the close in New York. The stock has gained 2.7 percent this year.
Net income in the quarter fell 73 percent to $533 million, or 36 cents a share, from $2.01 billion, or $1.32, a year earlier. While total sales fell 5.2 percent to $16.3 billion, that topped analysts' $16.1 billion average projection.
Much of the decline was due to the strong dollar, which reduces the value of PepsiCo's sales abroad. Net revenue dropped 23 percent in Europe and Sub-Saharan Africa, 5.4 percent in Latin America and 6.8 percent in Asia, the Middle East and North Africa. Quaker Foods North America's sales fell 0.5 percent.
North America Beverages increased net sales 4.1 percent to $5.36 billion, while revenue from Frito-Lay North America climbed 0.8 percent to $3.56 billion.
New Products
New products such as Mountain Dew Kickstart, Propel Workout Water and aspartame-free Diet Pepsi helped performance in the beverages unit, Chief Financial Officer Hugh Johnston said in an interview. PepsiCo is getting an increasing portion of its revenue from products introduced within the past couple years, he said.
"That higher level of innovation carries higher prices with it," Johnston said. "That's a big driver behind how we get pricing."
Before it's here, it's on the Bloomberg Terminal.
LEARN MORE