Osborne Pitches Love of Gangsta Rap in Cameron Succession Race
Robert Hutton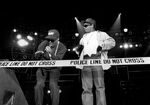 Britain's Conservative Party was offered three alternative futures on Tuesday, as the likeliest successors to Prime Minister David Cameron made their pitches.
On the platform of the annual party conference in Manchester, northwest England, Home Secretary Theresa May made a speech attacking immigration, and by implication Britain's membership of the European Union. She was followed by London Mayor Boris Johnson with a mix of jokes and a warm celebration of modern Britain. Then, at a fringe event, Chancellor of the Exchequer George Osborne, who'd made a policy speech Monday, talked of his love of gangsta rappers N.W.A.
Cameron praised all three, without indicating any preference, in a BBC interview afterward.
"I'm very proud that I run a team and a team with some real stars," the premier said. "We are seeing this week great speeches by Boris Johnson –- we've just heard a vision for how we bring our country together -– a great speech by Theresa May, one of the architects of modernization of the Conservative Party, a brilliant speech by George Osborne about changing the way we run our country."
Cameron's announcement that he'll retire by 2020 has turned party gatherings into a set of auditions for possible replacements. This week the fault line was over immigration: Does it represent a threat to British life, or a driver for economic growth?
May eschewed her usual leopardskin kitten heels in favor of black shoes as she made the case for tighter controls on the numbers coming to Britain's shores.
'Cohesive Society'
"When immigration is too high, when the pace of change is too fast, it's impossible to build a cohesive society," May told the conference. "There is no case, in the national interest, for immigration of the scale we have experienced over the last decade."
Her words were immediately attacked by the Institute of Directors. "We are astonished by the irresponsible rhetoric and pandering to anti-immigration sentiment," the business lobby group's director general, Simon Walker, said in an e-mailed statement. "It is yet another example of the home secretary turning away the world's best and brightest, putting internal party politics ahead of the country, and helping our competitor economies instead of our own."
Johnson, following her to the stage, offered a more conciliatory tone, calling for a "one nation" approach of "bringing people together." Though his speech was more serious than at previous conferences, he also offered his traditional series of jokes, including some at his own expense.
Political Assassination
"It is not that we object to immigration in itself," he said. "I speak as the proud great-grandson of a Turk who fled his country in fear of his life, and who was then assassinated by his political opponents -– a fate I intend to avoid."
Osborne's platform speech on Monday set out how the Conservatives should win over voters from the opposition Labour Party. His task on Tuesday was to present a more personal side, in an on-stage interview with the editor of the Labour-supporting Guardian newspaper.
The chancellor took pains to praise the paper's cartoonist, "who did a particularly flattering cartoon of me this morning coming out of the backside of the prime minister." He said politicians "have to accept that one of the great things about this country is the satire."
'Begins With F'
The chancellor also spoke about his possibly surprising affection for N.W.A. -- short for Niggaz With Attitude -- one of whose concerts he described as the best he'd ever seen. Asked for his favorite song, he replied: "It begins with F, but I think I'd better stop there." He said he greatly enjoyed this year's movie about the band, "Straight Outta Compton," and Dr. Dre, one of the group's rappers, had been for tea at Osborne's Downing Street residence.
For bookmakers, Johnson's was the winning performance. William Hill Plc kept him as second favorite behind Osborne, but cut his odds slightly. Osborne attracted 29 percent of the bets to be the next Tory leader, with Johnson on 22 percent, Hills said. May was backed in 15 percent of the bets placed.
"Boris is one of very few people who can make the Conservatives feel good about themselves," Johnson's biographer, Andrew Gimson, said in an interview. "He was saying: 'Here I am.'"
Before it's here, it's on the Bloomberg Terminal.
LEARN MORE