Norway to Start Withdrawals From Oil Fund to Plug Deficits
by and
Record spending will provide growth stimulus of 0.7ppt

Fund says it's well equipped to handle shift in inflows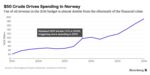 Norway predicts it will for the first time need to withdraw cash from its $820 billion sovereign wealth fund as western Europe's biggest oil exporter uses a record chunk of its petroleum revenue to cover budget holes and stimulate the economy.
The minority coalition plans to spend 208 billion kroner ($25.2 billion) of its oil wealth next year, topping the 204 billion kroner it predicts it will receive from offshore oil and gas fields, according to the 2016 budget. That implies a withdrawal from the fund of 3.7 billion kroner, after an inflow of 38 billion kroner this year.
"We're well equipped for a situation like this, given the size of our current income," said Marthe Skaar, a spokeswoman for the fund. "The current income, which includes interests, dividends, rental income and so on, is almost equivalent to the budget deficit. It's in the order of 200 billion kroner."
Tapping the fund to cover budget needs comes at a time when the managers of the fund, set up to safeguard the wealth of future generations, warn that it also faces diminished returns amid record-low interest rates. The fund has typically used inflows from the government to make strategy shifts in its portfolio, such as when it went into real estate or increased its stake in emerging markets. It's now dealing with potential withdrawals as it targets adding infrastructure to its portfolio of approved asset classes. It also wants to raise its allocation to real estate.
The government is using the cash to boost growth. So-called structural oil money spending will amount to 7.1 percent of mainland gross domestic product and 2.8 percent of the fund. The budget stimulus is equal to 0.7 percentage point.
Even so, the government said the fund will continue to grow as it uses less than the expected 4 percent return. "A large part of the expected return will remain in the fund and contribute to that the fund is expected to increase by 423 billion kroner during 2016," it said in a statement. "The piggy bank will therefore also grow bigger in 2016."
As it boosts spending, the government predicted mainland economic growth of 1.3 percent this year and 1.8 percent next year. Unemployment will rise to 4.4 percent this year and 4.5 percent in 2016. It said that oil investments will fall this year and in the following two years. It bases its estimates on Brent crude averaging $52 a barrel in 2015 and $53 next year, converted from kroner.
"The budget will be well-adapted to handle challenges both in the short and long term," Finance Minister Siv Jensen said early on Wednesday. It will be a "good" and "expansionary" spending plan, she said.
The government said it will spend 4 billion kroner on a jobs plan and cut or hold income taxes for nine out of 10 people. It's lowering the corporate tax rate to 25 percent from 27 percent and aims to cut it to 22 percent by 2018.
Jensen is battling an economic slump that threatens to destroy more jobs than were lost during the 2008 financial meltdown. The country is now heading for the biggest slowdown in oil and gas investments since 2000. Petroleum companies have announced more than 25,000 job cuts, according to a tally by Truls Oma Erichsrud at DNB Markets.
The central bank has cut rates three times since the oil price drop intensified in October. Norges Bank Governor Oeystein Olsen signaled as much as a 50 percent chance of lower rates in the coming year. Almost a quarter of output and one in nine jobs are dependent on the petroleum industry in Norway.
"Oil money use is disturbingly high," said Terje Breivik, a member of the Liberal Party whose support, along with the Christian Democrats, the government needs to pass the budget in parliament. "We're prepared to take responsibility in this year's negotiations to start the process so that in future budgets we use less oil money to finance welfare."
Using public money has risen to an extent that could "destroy two big growth impulses -- low rates and a weak krone," he said.
Labor, the largest party in opposition, also says the government could spend less and still help the economy. The party is "surprised" that Norway has already reached the point of making withdrawals from the fund, which wasn't seen for at least another 20 years, said Marianne Marthinsen, the financial policy spokeswoman for Labor.
Before it's here, it's on the Bloomberg Terminal.
LEARN MORE