Noodles & Co. Fights Back Against Carb Police After Stock Plunge
By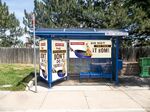 Noodles & Co., the pasta chain hurt by a shift to gluten-free and paleo diets, retooled its menu in an attempt to show that carbohydrates are not the enemy.
The company has removed artificial colors, flavors and preservatives from its noodles, sauces, condiments, salad dressing and bread. Noodles also said it would exclusively serve meat raised without antibiotics or hormones by 2017. The clean-menu push, which follows similar moves by Chipotle Mexican Grill Inc. and Panera Bread Co., is meant to convince customers that noodles and pasta can be part of a healthy lifestyle, Chief Executive Officer Kevin Reddy said.
"We want people to realize they can eat all the flavors and tastes they want and still feel good about it," he said in an interview at Bloomberg's headquarters in New York.
Noodles, which sells noodles and pasta dishes at about 470 restaurants across the U.S., has struggled with a backlash against carbs. The stock lost almost half its value this year through Monday's close, dragged down by sluggish sales and a weaker-than-expected forecast.
Reddy, a former executive at Chipotle, thinks the anti-carb diet trend is more a passing fad than a long-term threat to his business. The Broomfield, Colorado-based company is more intent on showing that its food has real ingredients.
"We don't see that there's an extremely strong anti-carb thing," he said.
The latest announcement only applies to what Reddy calls the chain's "core menu." The company is still working on pulling artificial ingredients from beverages and desserts, including its rice-crispy treats. The marshmallows used to make that item contain a blue dye that makes it appear white, Reddy said. Without the dye, the marshmallows have a yellowish hue that would be off-putting for customers, he said.
"I think we'll find a clean marshmallow in the future," Reddy said.