Microsoft to Start Shipping HoloLens Prototype Next Year
by
Development kit will cost $3,000, ship in first quarter

HoloLens is part of category that includes Apple, Google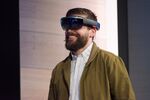 Augmented-reality developers will soon be able to get their hands on a prototype of Microsoft Corp.'s HoloLens. The cost? $3,000.
The development kit will be shipped during the first three months of 2016, Microsoft said Tuesday. The gadget lets programmers create software for the device, which overlays computer-generated images through goggles to show interactive environments. Technology companies usually roll out development kits before introducing a product to consumers, seeking to foster the creation of applications that will help to boost its appeal.

HoloLens is Microsoft's entry as a wide array of companies bet that the future of computing will include augmented or virtual-reality technology. Google Inc. and other investors have backed Magic Leap, while Apple Inc. bought Metaio this year; both are developing augmented-reality technology. Facebook Inc. bought Oculus VR last year for $2 billion and is planning to introduce a virtual-reality headset that will cost $1,500.
"The question becomes, is Microsoft the one who wins?" said J.P. Gownder, an analyst at Forrester. "This is the most important product in the category, and this is the first step in a long journey to reshape the way people do everything."
HoloLens is currently ahead of the pack on augmented-reality devices, Gownder said, adding that others may soon "come out of the woodwork." While the HoloLens technology blends real and digital images, virtual reality provides a fully immersive computer-generated experience.
HoloLens won't require a connection to a computer or smartphone to work, Microsoft said at an event in New York. Microsoft is seeking developers to work on projects ranging from gaming to health care, as the company aims to market HoloLens to both enterprises and consumers. Those seeking a kit must be based in the U.S. or Canada, and participate in a program that provides feedback to Microsoft. The company didn't say how many units it would ship.
"HoloLens is so important because it will prompt some developers to rethink their position on Windows," Gownder said. "People will join the Windows 10 ecosystem just so they can use HoloLens."
Watch Next: Expanding Microsoft's Reach: Inside the Windows 10 Event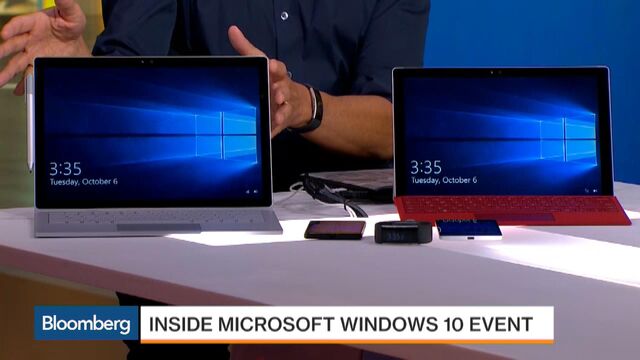 Before it's here, it's on the Bloomberg Terminal.
LEARN MORE