Markets Most Influential: Which Economy Will Power the World?
It's the year 2030. Which economy wields the most power?
Bloomberg News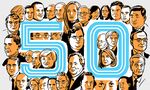 China is still growing, but at a slower pace than in recent years. The United States is still the world's pre-eminent economy, but is its recovery durable? The European Union is emerging from a long period of stagnation and poor growth, but how will it cope with internal pressures on the euro and the external pressure from an influx of refugees?
As part of our coverage of the Bloomberg Markets Most Influential summit, being held on Oct. 6, 2015 in Hong Kong, London and New York, we want to know which economy you think will be the most powerful in the world in the year 2030? It's the same question being put to the delegates and panelists in London.
Tell us what you think, and we'll update this post with the views from the room later on.
 You can watch live coverage of the Bloomberg Market Most Influential events here, and join the conversation at #bmarkets2015
Before it's here, it's on the Bloomberg Terminal.
LEARN MORE