Jain Says Some Emerging Markets Are a `Worry' as Funds Exit
by and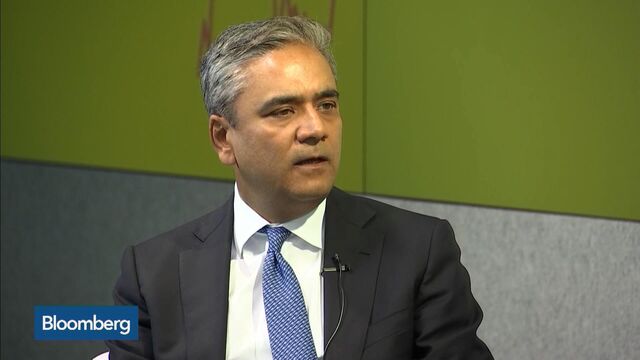 Anshu Jain,  the former co-chief executive officer of Deutsche Bank AG, said some emerging markets have become a "worry" as they come under pressure from plunging commodity prices and capital outflows.
"In certain parts of ex-Japan, ex-China, ex-India Asia we could have some bad news," Jain said in an interview at Bloomberg Markets Most Influential Summit 2015 in London on Tuesday. He pointed to Brazil, South Africa, Russia, Turkey as other emerging markets that harbor risks.

Emerging economies had benefited from several years of Chinese growth, higher commodity prices and foreign investments as central banks in other markets kept interest rates at record lows. Those three factors changed this year as concern over a slowdown in China pummeled the price of oil and metals and investors moved funds to the U.S. in anticipation that the Federal Reserve will raise interest rates.
"Look towards emerging market corporates if you really want an area of concern. They borrowed a lot of money," Jain said. "Some of these firms have hedged it, they have dollar inflows and that's completely fine. Others may well be playing a carry game, we've seen that done. You borrow in dollars, invest domestically, typically back into the banking system, and I think we're going to get some stress in those areas."
Jain isn't alone in linking the selloff in emerging markets to future challenges. Fortress Investment Group LLC told investors in a letter dated Sept. 30 and signed by the company's Chief Investment Officer David Dredge that emerging markets are heading into a contractionary cycle that could rival the Asian financial crisis of 1997. The hedge fund cited "sharp" correlations between Asia and markets such as Brazil, where the currency dropped to a record low in September amid a political stalemate, a plunge in commodities prices and the worst recession in a quarter century.
Not all managers are bearish. Franklin Resources Inc.'s Michael Hasenstab, manager of the Templeton Global Bond Fund, said in an interview posted on YouTube on Monday that the selloff in emerging-market assets has opened up multi-decade investment opportunities. The San Mateo, California-based money manager said he's buying the Mexican peso, Malaysian ringgit and Indonesian rupiah.
Jain, an Indian-born British citizen, stepped down as co-CEO of Frankfurt-based Deutsche Bank at the end of June. He remains a consultant to the bank.
The situation in emerging markets isn't as bad as during the Asian crisis of the late 1990s, Jain said. There are "fundamentally different dynamics, foreign exchange reserves look a lot better, sovereign indebtedness a lot lower."
Before it's here, it's on the Bloomberg Terminal.
LEARN MORE