It Looks Like Free Money Is Available in the Credit Market
A distortion in derivatives.
by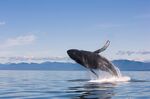 A credit market curiosity, presented for your enjoyment.
Here is so-called 'skew' in Markit's North American High Yield CDX, a derivatives index tied to the credit default swaps (CDS) of 100 junk-rated companies and one of the most liquid credit-trading instruments around.

The skew, or difference between the price of the CDX index and its underlying constituents, hit negative 30 basis points this week, a level not seen since 2012 -- when credit markets were roiled in the wake of a large seafaring mammal. Normally when the index trades so out of line with its constituents, such skew is quickly arbitraged out of existence by traders who can make easy money from the discrepancy. 
According to Chase Van Der Rhoer, Bloomberg's Credit Derivatives Product Manager and creator of the above chart, a typical such arbitrage trade ($25m in size) would stand to make about $325,000 should the skew return to more 'normal' levels such as those seen just at the end of last month, when it was almost zero. 
Of course, 'should' is the operative word here, because these types of trades have a history of blowing up spectacularly in the face of persistent distortions. (And it's one reason why hedge funds who had been trying to arbitrage a positive skew in a particular investment-grade CDX index were so incensed at JPMorgan's infamous London Whale activity).
So it's worth asking exactly what is causing this particular bout of skew-idity. The CDX index just went through a big makeover in an effort to bring it more into line with cash bond indexes. Investors and traders have long complained that the CDX was losing its usefulness as a hedging tool for big portfolios of corporate debt.
To make the adjustment Markit added new corporate names into the index, some of which have more infrequently-traded CDS. That arguably opened up the potential for variation between the theoretical price of the CDX based on its 100 single-name CDS constituents and its actual trading price.
"Those names are likely not as liquid at the moment but the index obviously is the more liquid traded instrument," said Anindya Basu, credit analyst at Citigroup. 
He added: "There is always some skew but there are opportunities for arbitraging that. The question is whether liquidity in the single-names -- especially the new ones -- will improve enough to make the arbitrage work."
Before it's here, it's on the Bloomberg Terminal.
LEARN MORE