Howard Marks Will Bet You $100 You Won't Know the Price of Oil
by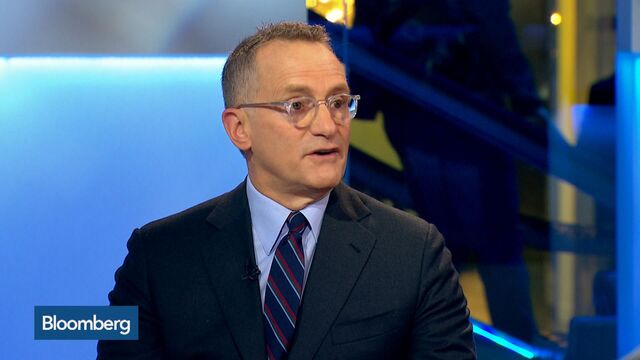 Howard Marks is a betting man, and he's got a wager for you.
Predict a price for a barrel of oil a year from now, and the legendary distressed-debt investor will bet you $100 the actual price in a year is outside your range, give or take $5.
"I'll do that bet all over the place, especially if people take all different prices," Marks, co-founder of Oaktree Capital Group LLC, said in a television interview Tuesday on "Bloomberg <GO>" with David Westin and Stephanie Ruhle. "Knowing the price of oil in six months is incredibly valuable -- and completely impossible."
The lesson is one of Marks's favorites: Know what you don't know, an aphorism oft-featured in the billionaire's widely read quarterly memos. Famous (or infamous) for frustrating interviewers by saying he doesn't make specific forecasts, the 69-year-old instead bets on directional moves and relies on Oaktree's ability to hold assets for a long period of time, a feature that makes the Los Angeles-based firm a true long-term investor rather than a short-term trader.
"Illiquid investments are good for investors, they're bad for traders," Marks said Tuesday. "We're investors."
If Oaktree, which manages $103 billion in assets, isn't forecasting the price of oil, it has at least been predicting extended trouble for producers of the commodity. The firm put $400 million into energy assets in the fourth quarter to take advantage of buying opportunities as falling oil prices pressure producers, and has continued putting money to work in the industry this year.
"It's not time to dive into the water completely, but it is time to take advantage of low oil and gas prices," Bruce Karsh, Oaktree's co-chairman, said in July. "As things get worse and worse, the opportunity set for us opens up more and more."
West Texas Intermediate crude oil has slumped 55 percent since its 2014 peak due to weaker global demand, especially in China, and a glut in supply. High-yield bonds tied to energy companies have slid 20 percent since June of last year.
"We've been reticent for the past four years," Marks said Tuesday, referring to a dearth of investment opportunities as markets soared and corporate defaults were few and far between. Now, "we can turn more aggressive."
Before it's here, it's on the Bloomberg Terminal.
LEARN MORE