Hillary Clinton Trolls GOP Field, Sending Them Copies of Her Book Hard Choices
The Democratic front-runner has repeatedly been criticized by her Republican rivals over her record as secretary of state.
By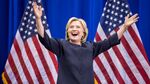 Hillary Clinton sent copies of her most recent book to all the Republican presidential candidates to give them a sense of her work as secretary of state after hearing rounds of attacks from them dismissing her accomplishments.
"I hear the Republicans talking from time to time in their debates and elsewhere and they say things like, 'Ugh, I don't know what she accomplished as secretary of state. She didn't accomplish anything,'" Clinton said Tuesday at an organizing party in Muscatine, Iowa. "I listened to that for a while and then I thought maybe they just don't know. So I have now sent each of them a copy of my book, Hard Choices, about what we did in those four years."
During the second GOP presidential debate, former Hewlett-Packard CEO Carly Fiorina returned to a criticism she has made often of Clinton. "If you want to stump a Democrat, ask them to name an accomplishment of Hillary Clinton," she said. 
Clinton came up with the idea to send the books the day after the debate, a campaign aide said, during which she came in for criticism over the use of a private e-mail address and server while serving as secretary of state as well as her record as the nation's top diplomat. The aide confirmed that the books were sent to 14 candidates, including Donald Trump, Jeb Bush, Marco Rubio, Bobby Jindal, and George Pataki. Not sent a book: Jim Gilmore. 
"There are so many of them they could have a book club," Clinton, who is scheduled to testify before the House Select Committee on Benghazi on Oct. 22, joked of the GOP field. 
In a note that accompanied the book, she tweaked the Republicans. "I understand that you and your fellow Republican candidates for president were questioning my record of accomplishments at your last debate, so I thought you might enjoy reading my book, Hard Choices," she wrote in the letters, which she signed. "From working to restore America's standing in the world to bringing crippling sanctions to Iran to negotiating a ceasefire in Gaza, please enjoy all 596 pages of my time as secretary of state."
And, she added, "with 15 candidates in the race, you've got enough people for a book club!"
In response to Clinton's gift, Senator Ted Cruz offered to send her a copy of his own book, A Time for Truth.