Hillary Clinton Shifts to Offense Ahead of Debate, Benghazi Committee Testimony
She has begun, nearly six months into her campaign, to define herself in contrast to others in the Democratic race.
By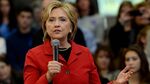 Bernie Sanders continues to rise in the polls. Joe Biden appears increasingly likely to run for president. And Hillary Clinton, after months spent mostly in defense mode, is trying to score some points.
From playing bartender Val on Saturday Night Live to pushing back on Republicans' politicization of Benghazi to elaborating on her plans to regulate gun sales, Clinton is aiming to convey in the days leading up to the first Democratic debate that she offers the right mix of personality, politics, and policy to be the nominee and to be elected president.
Clinton is in the midst of one final round of visits to the key primary states ahead of the Oct. 13 debate in Las Vegas and, nine days later, her testimony before the Benghazi committee. Clinton spent Monday in New Hampshire discussing her views on guns, and will be in Iowa on Tuesday and Wednesday to talk up the Affordable Care Act and her ideas for strengthening it.
While she still refuses to engage in direct attacks on Sanders and answers questions about Biden's decision like a former colleague rather than a future rival, Clinton's begun, nearly six months into her campaign, to define herself in contrast to others in the Democratic race.
And she's kept up her attacks on Republicans, focusing her attention on her Oct. 22 public hearing before the House committee created to re-investigate the 2012 deaths of four Americans in Benghazi, Libya. "This committee was set up, as they have admitted, for the purpose of making a partisan political issue out of the deaths of four Americans," Clinton said Monday during an early-morning town hall in Hollis that aired on the Today show. "I would have never done that, and if I were president and there were Republicans or Democrats who were thinking about that, I would have done everything to shut it down."
She also offered some wishful thinking, saying that she's looking forward to testifying before the Benghazi committee "if they're going to have it still running" at the end of the month. 
Continuing to try to capitalize on House Majority Leader Kevin McCarthy's boasting of the political damage that the committee has done with the help of more than $4.5 million in taxpayer money, the Clinton campaign has released a 30-second spot that features footage of the California Republican's comments from last week. "Republicans have spent millions attacking Hillary because she's fighting for everything they oppose," a voiceover says. It will begin airing Tuesday on CNN and MSNBC.
(House Democrats have come to her aid, too, pushing Monday for the release of transcripts of closed-door interviews that the panel has conducted with Clinton State Department aides including her then-chief of staff, Cheryl Mills.)
At a town hall at Manchester Community College on Monday, Clinton unveiled a set of policy proposals on guns that show her willingness to act in the face of tragedy while also reminding voters and the media that her record is further to the left than Sanders's.
Clinton said she supports the repeal of the Protection of Lawful Commerce in Arms Act, which protects gun sellers and manufacturers from legal liability if their products are used to commit crimes. "Nobody else is given that," she said. While serving in the Senate in 2005, Clinton voted against the law. Sanders, then in the House, voted for it.
Clinton acknowledged that her proposals aren't groundbreaking and said—in a swipe, intentional or not, at President Barack Obama and Biden, who led the administration's post-Newtown guns task force—what's different is that she'll make them happen. "There's nothing unique about them, other than I am so determined to do everything we possibly can," she said.
She also injected a jab at the reactions that Republican presidential candidates Donald Trump and former Florida Governor Jeb Bush had to last week's mass shooting at Umpqua Community College in Oregon. "Mr. Trump was asked about it, he said something like 'You know, things like that happen in the world,'" she said. "Governor Bush said, 'Yeah, stuff happens.' No, that's an admission of defeat and surrender to a problem that is killing 33,000 Americans."
Left unmentioned Monday was where Clinton stood on the Trans-Pacific Partnership trade deal. Sanders wasted little time in blasting the deal after the United States and 11 other nations announced earlier in the day that it had been finalized.
"I am disappointed but not surprised by the decision to move forward on the disastrous Trans-Pacific Partnership trade agreement that will hurt consumers and cost American jobs," Sanders said in a statement. 
Even as Sanders continues to post strong fundraising numbers and Clinton's numbers have dropped in Iowa, New Hampshire, and nationally, Wall Street has remained bullish about the prospect of a Clinton presidency. As she pitched her gun proposals on Monday, shares of Smith & Wesson Holding Corp. and Sturm, Ruger & Co rose amid industry speculation that gun sales would spike ahead of tighter regulation by Clinton. Last month, some biotech stocks fell after Clinton chastised a drug company for drastically raising its prices on an AIDS medication.
For all the strength that Clinton is projecting on policy and politics, she's also working to show what the New York Times described last month as "humor and heart."
After the mother of a victim of the Sandy Hook shooting told her story at the Manchester town hall, Clinton sounded choked as she thanked the woman for fighting for gun safety. Earlier in the day, she flipped pancakes at the Today town hall.
Confident that her appearance on Saturday Night Live hit the right note, poking fun at her sometimes reserved style and voicing liberals' frustrations that she wasn't faster to take preferred stances on same-sex marriage and the Keystone XL pipeline, Clinton embraced her character.
"Or you can call me Val!" Clinton told the crowd.
(Correction: An earlier version of this story misstated the date of the first Democratic debate.)