With Icahn at Door, Freeport Is Latest to Adapt Business
by
The number of board members will be reduced to nine from 16

Oil IPO remains an `alternative for future consideration'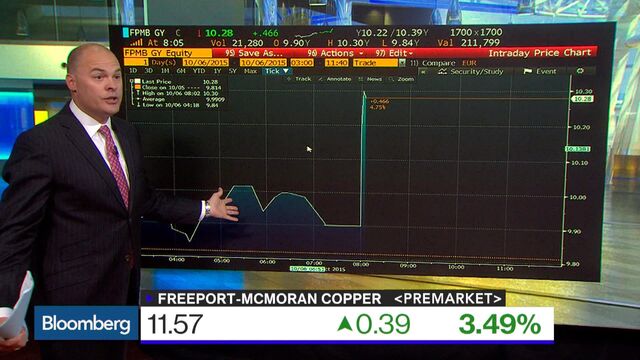 Weeks after billionaire investor Carl Icahn disclosed a stake in Freeport-McMoRan Inc., the mining and energy company abruptly revamped its board and said it was considering spinning off its oil and natural gas business.
The move is the latest in a series of maneuvers by major corporations that are struggling to placate shareholders in the face of a debilitating collapse in world commodities prices. On Monday, DuPont Co. announced its chief executive officer would resign, just months after narrowly winning a proxy battle against another activist shareholder, Nelson Peltz.
Freeport is cutting its board membership almost in half, to nine from 16, as it prepares to separate the oil and gas unit following "constructive discussions" with shareholders, it said in a statement Tuesday. The company had announced a proposal earlier this year to sell shares in the oil and gas business.
A slimmer board and management structure and a renewed focus on metals will be well-received by shareholders, said Anthony Rizzuto, an analyst at Cowen & Co.
"This strategic move to refocus on the copper business is a much needed step in the right direction," Rizzuto said in a research note Tuesday.
Shares Gain
Freeport has been facing strong headwinds as the price of copper -- which accounted for about 60 percent of its revenue last year -- and oil plunged. The metals and energy producer increased its debt almost sixfold in 2013, as it re-entered the oil and gas business by buying former subsidiary McMoRan Exploration Co. and Plains Exploration & Production Co. in two separate deals announced the same day.
Freeport rose for a sixth consecutive day, climbing 5.8 percent on Tuesday to $11.83 at the close in New York. The shares have still declined 49 percent this year.
Freeport said earlier this year it would consider selling as much as 20 percent of its oil and gas unit in an initial public offering as it tries to finance expansion plans amid depressed commodity prices. If it does, it may find the total assets are worth $1.8 billion less than they were a year ago, according to a report from Bloomberg Intelligence last month.
"FCX's strategy will focus on its global leading position in the copper industry," it said.
Icahn Enters
Activist investor Icahn, who holds 8.8 percent of Freeport, said in August he intended to hold talks with the company on "capital expenditures, executive compensation practices and capital structure as well as curtailment of the issuer's high-cost production operations."
Eric Kinneberg, a Freeport spokesman, didn't immediately respond to messages seeking comment on whether Icahn was one of the investors with whom Freeport consulted. Icahn's office didn't immediately respond to an e-mailed request for comment.
"The broad issues that were brought up by Icahn at the end of August for the most part have been addressed or are being addressed by today's announcement," Jeremy Sussman, an analyst with Clarksons Platou Securities Inc., said in a telephone interview from New York. "We'll have to wait and see what actions the company takes."
Board Overhaul
The new board is comprised of independent directors Gerald Ford, Robert Day, Lydia Kennard, Jon Madonna, Dustan McCoy, Stephen Siegele and Frances Fragos Townsend; and two executive directors, Chairman James Moffett and Chief Executive Officer Richard Adkerson. Five directors were appointed to the oil and gas unit's board.
The previously disclosed IPO proposal remains an option, Freeport said.
"Other alternatives currently under consideration include a spinoff of FCX's oil and gas business to its shareholders, joint venture arrangements and further spending reductions," the world's largest publicly traded copper producer said, referring to itself using its U.S. stock symbol.
Before it's here, it's on the Bloomberg Terminal.
LEARN MORE