Eternal EU Frenemies: Merkel and Hollande to Air Rival Visions
by and
German, French leaders to jointly address EU Parliament

Last such event took place in shadow of communism's collapse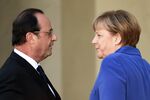 The date was Nov. 22, 1989. The Berlin Wall had fallen 13 days earlier, revolution was in the air across eastern Europe and the first whispers of German unification -- hard to fathom for the post-World War II generation of European leaders -- were making the rounds.
Against the backdrop of the peaceful overthrow of communism, Germany's Helmut Kohl and France's Francois Mitterrand made a joint appearance in the European Parliament that did more to highlight German-French differences over the emerging shape of Europe than to show a common vision.
The cagey Mitterrand warned against being carried away by momentary passions, urging "a bit of distance" from the upheavals in Warsaw, Budapest, Prague, Berlin and elsewhere. Kohl had none of it, invoking "European unification" no fewer than five times and daring to speak of German unity as part of it.
The Parliament is staging another German-French double act on Wednesday, billing the speeches by Chancellor Angela Merkel and President Francois Hollande as an agenda-setting moment for Europe as it struggles with disunity over the euro, Russian muscle-flexing and an influx of refugees from the Middle East. But as in 1989, the question is whose agenda will it be?
German-French disputes from that era underlie the modern European Union and will color the debate this time with the Germans urging caution and the French seeking bolder responses, whether in creating a genuine European authority to manage the euro or in combating Islamic State.
Merkel, as hard to pin down as Mitterrand in his day, said Saturday that the German-French presence in the EU Parliament will be an "emotional moment," a reminder that the 28-nation bloc is a "community of values." The debate starts at 3 p.m. in Strasbourg, France.
'Difficult Times'
"This is a historic visit for historically difficult times," Parliament President Martin Schulz, who shares Merkel's nationality and Hollande's center-left political creed, said when announcing the invitation last month.
The parliament's location in Strasbourg, a city on the Rhine river that's switched hands between both countries, is itself the product of German-French compromises that used to drive the EU, only to wane as the economic mismatch between the two widened and the bloc's enlargement bequeathed Germany with a new set of allies in eastern Europe.
The euro has been a German-French battleground since the debt crisis broke out in 2010, with Merkel resisting calls to make Germany's economy the guarantor for poorer-performing countries. France is pushing for a euro-area budget and an "economic government" to run it, long anathema to Germany.
On refugee policy, Merkel has changed tack, at first rolling out an ever-longer welcome mat, before being forced by the domestic backlash to seek to curb the influx after all. Hollande, beset by Marine Le Pen's anti-immigration National Front party, long opposed German pleas for the EU-wide resettlement of refugees until eventually relenting.
For all their differences, Mitterrand and Kohl went on to spend another six years working together at the heart of Europe, each becoming his country's longest-serving leader of the modern era. Polls suggest Hollande is unlikely to win a second term, while Merkel, now in office for 10 years, has seen her approval ratings slump amid her stance on refugees.
"The French-German relationship has always been full of tensions because the two countries have very different interests," said Pierre Vimont, a former secretary general of the EU foreign service who is now a senior associate at Carnegie Europe in Brussels. "But overcoming those differences is what the European project is about and an eventual compromise between them -- be it on Greece, Russia or refugees -- often helps bring along the vast majority of EU member states."
Before it's here, it's on the Bloomberg Terminal.
LEARN MORE