Daily Fantasy Employees Are Players, Too. What's Wrong With That?
It's routine for workers at daily fantasy startups to play in tournaments on rival websites.
by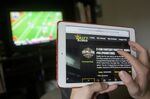 The daily fantasy sports industry—a set of multimillion-dollar, sports-based online gaming sites —is playing defense after a New York Times story about allegations that employees at two leading sites, DraftKings and FanDuel, had been using nonpublic information to gain an advantage in fantasy competitions. 
The controversy began on Sept. 27 when an employee at DraftKings posted information about how often fantasy players had chosen different National Football League players in a $1 million tournament. The employee, Ethan Haskell, accidentally released the information before some of the NFL games had started on Sunday, at a time when DraftKings players could still make late changes to their lineups. This caught the eye of some daily fantasy players, and Haskell admitted the error on the fantasy community site RotoGrinders. Still, people began asking questions about who has access to information about the daily fantasy games and how it is used.
The Times story also notes that Haskell apparently won $350,000 that week playing in a comparable tournament at FanDuel. The inference was that an employee of a rival fantasy company could have used what he knew about trends that week to shape his own selections at FanDuel. Employees at daily fantasy sites are not allowed to play in games run by their employers. Until now, however, they had been free to play at other sites.
In daily fantasy, competitors build lineups of real NFL players, whose combined statistics determine the fantasy winner. The sites typically set prices for each NFL player and limit entrants to a "salary cap" for their imaginary teams. The trick to winning is to find players who both perform well and are not popular. If Haskell could zig when he knew everyone else was zagging, he would have an edge. "The advantage would be if you knew just before the contest closed what everyone else was picking and therefore decided to go against the grain, which is what you need to do to win a huge prize pool," says David Copeland, chief executive at daily fantasy analytics provider SuperLobby. Since DraftKings and FanDuel share many of the same customers, the selection trends at the two sites are similar. A tactic that works in games at one site is likely to work at the other. 
For all of the attention the story has gained, it appears unlikely that Haskell used any inside information. His post at DraftKings came after FanDuel had locked the competitions in which he played. Like many daily fantasy employees, Haskell appears to be a skilled and experienced player. There does not need to be foul play to explain his winnings, although they certainly came at a bad time. After the Times story, DraftKings and FanDuel released a joint statement through the Fantasy Sports Trade Association (FSTA) announcing a temporary prohibition on employees playing in any daily fantasy competitions while the companies develop new rules. 

It's not a secret within the daily fantasy community that many employees are also players. Until now, nobody seemed to care. "It's all come out of nowhere really," says Copeland. "I don't think there was ever a fuss about it." It made sense, he says, for people who played the games to also build them and it made for a better product: "It was like if you like going on fast rides and you got to work at Busch Gardens." When the FSTA implemented its charter for paid-entry contests in 2014, the trade group included provisions that employees not play on their own sites or "use confidential player information to gain an advantage playing against players on a different site." While there is no proven instance of abuse of information, the sites now face a heavy burden of suspicion. 
Lee Bremer, a casual daily fantasy player in North Carolina, says he became alarmed when he read about Matthew Boccio, a FanDuel employee whose DraftKings handle was familiar. "I'm like, wait a second," says Bremer, "I've seen that guy's handle in every tournament that I play in, and the fact that he works for FanDuel and possibly in their pricing, that seems like a conflict of interest." Bremer was assured by the temporary ban on employee play, but he says he needs to know that "their data is on lockdown."
It's not just players who want to know. DraftKings and FanDuel have collected a combined $789 million in funding from investors including the National Basketball Association, National Hockey League, and Major League Baseball. Those investors, especially the leagues, don't want to be seen as part of a swindle. In a statement to Bloomberg, Major League Baseball said it prohibits its players and employees from participating in fantasy baseball games for prize money. "We were surprised to learn that DraftKings allowed its employees to participate in daily fantasy games," the league says. "We have reached out and discussed this matter with them." Mike Bass, a spokesman for the National Basketball Association, said the league had "been advised that all appropriate actions are being taken to maintain the highest level of integrity for fantasy players." The National Hockey League did not reply to a request for comment.
DraftKings and FanDuel can also expect to hear from lawmakers if they haven't already. Last month, New Jersey congressman Frank Pallone Jr. called for a hearing. Maura Healey, the attorney general for Massachusetts, where DraftKings is based, also said she was reviewing the site's operations. It seems certain that the daily fantasy industry, until now mostly free to play by its own rules, will face increased regulation. 
Before it's here, it's on the Bloomberg Terminal.
LEARN MORE