Bombardier Jumps on Reported Approach to Airbus on CSeries
by
Jet's tardy debut has been a drain on planemaker's cash

Analyst sees need for `deep pockets,' but doubts a sale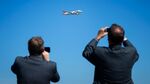 Bombardier Inc. surged after Reuters reported that the planemaker had approached Airbus Group SE about acquiring a majority stake in the struggling CSeries jetliner.
The proposal involves Airbus helping Bombardier complete development of the aircraft in exchange for a controlling interest in the CSeries program, Reuters reported, citing people familiar with the matter whom it didn't identify. The talks were exploratory, and neither company has made a decision, Reuters reported.
Bombardier has been burning cash as its tries to crack the Airbus-Boeing Co. duopoly. The CSeries, the company's biggest-ever jet, is more than two years late as it heads toward a 2016 commercial debut more than $2 billion over budget. Montreal-based Bombardier also plans an initial public offering for its train business later this year to help bolster liquidity.
"To make this a commercially viable program, you need somebody with deep pockets to be on your team," said Nicholas Heymann, an analyst at William Blair & Co. But he said he thought it unlikely that Airbus would buy a stake in the CSeries or in Bombardier, because Boeing would thwart any such effort.
Biggest Rally
Bombardier's widely traded Class B shares jumped 15 percent to C$1.77 at the close in Toronto, the biggest advance since Sept. 10. They are down 57 percent this year.
Spokeswomen for Bombardier and Toulouse, France-based Airbus didn't immediately return messages left for comment about the Reuters report on the CSeries.
Bombardier has secured few orders from top-tier airlines among its 243 firm sales, shy of a 300-plane goal by the time the CSeries begins commercial flights. Bombardier last signed a deal for the CSeries in September 2014, when a unit of Australia's Macquarie Group Ltd. agreed to buy 40 of the jets.
The company had $3.1 billion of cash and cash equivalents and about $9 billion of long-term debt at the end of June.
Before it's here, it's on the Bloomberg Terminal.
LEARN MORE