`Orange Crash' Leaves Trudeau the Top Rival to Harper in Canada
by
Liberal leader picks up steam as New Democrat slides in polls

Mulcair tries to regain momentum by opposing TPP trade pact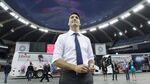 Canada's New Democratic Party is hoping to capitalize on opposition to the Trans Pacific Partnership trade pact to reverse a slide in polls that's seen Liberal Leader Justin Trudeau emerge as Prime Minister Stephen Harper's top election rival.
Tom Mulcair's NDP now sits in third place in national polls after spending the first half of the campaign with a slim lead on Harper's Conservatives and Trudeau's Liberals.
While the race remains close, Trudeau picked up steam as Mulcair slid, muddying the waters for the cohort of voters -- about three quarters, according to Abacus Data -- that wants change. Now, with less than two weeks to go before the Oct. 19 vote, Mulcair is redirecting his focus against the Pacific Rim trade deal, saying it will kill auto manufacturing jobs and upend Canada's protected dairy sector.
"Come on Mr. Harper, show us the secret details if you're so proud of it -- come clean and show Canadians whose jobs you've been sacrificing," Mulcair said Tuesday in Surrey, British Columbia. "Maybe Justin Trudeau trusts Mr. Harper and that's why he's supporting this secret trade agreement. But friends, I have no trust that Stephen Harper has stood up for Canada."
The orange-branded NDP, which has never formed government nationally, won the second-most seats in 2011's election in a surge dubbed the "orange crush." The party's fall from the front-runner's position this year is similarly being called an "orange crash."
Best Alternative
Before the campaign began, 62 percent of respondents told Ipsos Public Affairs the NDP was the best Harper alternative, compared to 38 percent for the Liberals. "It used to be very clear who voters should get behind" if they wanted to defeat the prime minister, pollster Darrell Bricker said. "Now it's split, and that confusion actually works to Stephen Harper's advantage."
An Ipsos poll released Tuesday found the Conservatives at 33 percent nationally, the Liberals at 32 percent and the NDP at 26 percent. Those results are in line with national averages compiled by polling aggregator ThreeHundredEight.com.
"The New Democrats have been trending down in the past two weeks, and they've been trending down in the two most importance provinces for the New Democrats: Quebec and Ontario," pollster Nik Nanos of Nanos Research said. 
Crunch Time
Mulcair sees the TPP as a chance to differentiate himself from both opponents. Harper signed on to the 12-nation trade deal Monday and Trudeau has voiced cautious support.
"For Tom Mulcair, this is his chance to help reignite the campaign," Nanos said, adding time is running short with Canada heading into a holiday weekend. "They realistically only have four more days to try to stem the trend. Once we get past Thanksgiving -- the last week of the campaign -- it's hardest to move the numbers, especially when there are two front-runners."
Mulcair led Trudeau throughout much of September when voters were asked who their preferred Prime Minister was. The Liberal has since leapfrogged the NDP leader, with the gulf widening in the past week. According to a Nanos poll released Monday, 31 percent say Harper is their preferred prime minister, with Trudeau on his heels at 30 percent and Mulcair well behind at 21 percent.
At current polling levels, no party is on pace for a majority government. Having ruled out supporting Harper in a minority, Trudeau and Mulcair could co-operate in the House of Commons to deny the prime minister a fourth term even if he wins the most seats.
Before it's here, it's on the Bloomberg Terminal.
LEARN MORE