Ukraine Sees IMF Bailout Continuing Even With Russia Bond Unpaid
by and
Russia has said it wants payment in full on $3 billion bond

Jaresko, Siluanov to meet this week for debt talks at G-20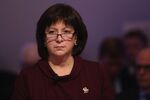 Ukrainian Finance Minister Natalie Jaresko said she's optimistic the International Monetary Fund will continue its aid program even if the war-torn nation breaches the lender's policy by going into arrears on payment of a $3 billion bond owed to Russia.
Support from the Group of Seven industrialized nations is strong enough to prevent the IMF from halting its $17.5 billion aid program for Ukraine over the debt due to Russia in December, Jaresko said in an interview in London on Monday. She has ruled out repaying the bond when it comes due Dec. 20, and Russia has refused to negotiate the bond it bought from the regime of former President Viktor Yanukovych shortly before his ouster and President Vladimir Putin's annexation of Crimea.
"I'm confident that if we stay on our reform program, we'll be able to get through any potential decisions that occur," Jaresko said. "The G-7 would not want to see Ukraine be pushed out of an IMF program which we are otherwise fully complying with simply because of this."
Ukraine risks losing IMF financing if the country misses payment on the Russian debt because the fund's policy dictates it can't lend to countries in arrears to sovereign creditors. While the government in Kiev has insisted that all bondholders, including Russia, should be treated equally in its $18 billion debt restructuring to meet IMF conditions, Russia has warned it will seek legal action and question the validity of the IMF program if the bond isn't paid back in full.

Creditors, including Russia, are being asked to vote by Oct. 14 on the deal, which includes a 20 percent principal writedown, higher average coupons and warrants tied to gross domestic product growth. Ukraine is seeking to cut its debt burden to meet IMF terms for a bailout that is propping up the country's economy after a conflict with pro-Russian separatists in its easternmost regions drained reserves and plunged it into a recession.
The crisis lender will only decide if it thinks the bond is official debt after Ukraine has gone into arrears, according to Nikolay Gueorguiev, the IMF Mission Chief to Ukraine. The preliminary view by staff is that the bond should be classified as official debt, a person familiar with the matter told Bloomberg in June.
Jaresko is due to meet Russian Finance Minister Anton Siluanov on the sidelines of the G-20 meeting in Lima, Peru, on Friday. The two sides will discuss the terms of the debt-restructuring deal agreed between Ukraine and a Franklin Templeton-led creditor committee in August, Jaresko said. The meeting will be the first time Jaresko has held talks with her Russian counterpart since Ukraine announced plans in January to restructure its international debt.
Ukraine's Eurobonds have rallied about 23 cents on the dollar to more than 78 cents since a better-than-expected agreement with the Templeton led creditor group was announced in August and the notes handed investors a 57 percent return in the three months ending September, the best performance in the Bloomberg USD Emerging Market Sovereign Bond Index.
Bondholder View
Investors want to see the standoff over the $3 billion bond resolved so that Ukraine can move on to focus on economic growth, according to Pierre-Yves Bareau, who oversees $43 billion in investments, including Ukrainian bonds as the head of the emerging-market debt at JPMorgan Chase & Co.'s asset-management unit.
"Bondholders will have a preference for that debt to be restructured," Bareau said in an interview on Monday. "But I think what matters more is to make sure you can put that bond behind you and start to move forward."
Ukraine has "multiple options" for dealing with holdouts, Jaresko said. The bond exchange terms make clear that holdouts will not be given more favorable terms and any investor who doesn't accept the deal may face a moratorium.
"We have plan B, plan C, plan D, but right now we're focused on plan A," Jaresko said. "We might have to default on all holdouts after the deal and then deal with them individually. It depends how many there are and in which series."
Before it's here, it's on the Bloomberg Terminal.
LEARN MORE