U.K.'s Rudd Promises `Relentless' Pressure on Energy Companies
by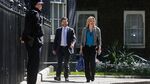 U.K. Energy Secretary Amber Rudd pledged to be "relentless" in putting pressure on energy utilities to deliver fairer prices to consumers.
Too many consumers suffer from "woeful" service from gas and power suppliers, Rudd said Monday in a a speech to the Conservative Party conference in Manchester, northwest England. She said she would give the Energy Ombudsman additional powers to investigate "systemic issues in the industry, not just individual complaints."
"We will be relentless in putting pressure on companies to improve how they treat their customers," Rudd said. "Where companies have developed a pattern of bad behavior, they will have no hiding place. We are on the side of consumers, we are doing this so consumers receive better treatment and we can build more trust in the industry."
The U.K. is trying to improve competition in its energy market, dominated by the traditional "Big Six" utilities, after a regulatory probe in July said energy customers are paying 1.2 billion pounds ($1.8 billion) more than they need to for their electricity and gas. That investigation is due to report final results by year-end, with one suggestion being the introduction of a price cap on the most expensive tariffs to protect customers who don't switch suppliers.
"We will implement the recommendations of the Competition and Markets Authority to help ensure that we have an energy market that works for the consumer," Rudd said.
The "Big Six" are Centrica Plc, SSE Plc, Electricite de France SA, RWE AG, Iberdrola SA and EON SE.
Before it's here, it's on the Bloomberg Terminal.
LEARN MORE