Twitter Names Dorsey Permanent CEO, to Remain CEO of Square
By and
Dorsey to keep CEO job at Square, which is planning an IPO

`My focus is to build teams that move fast,' Dorsey tweeted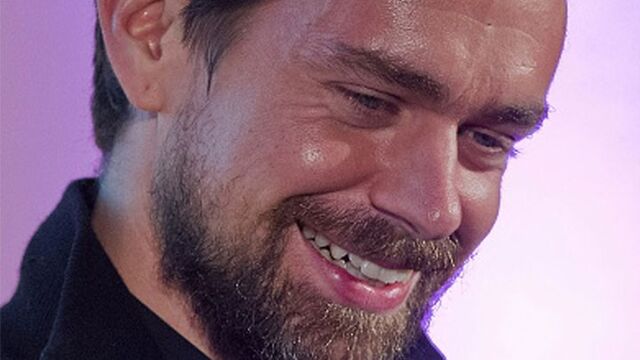 Twitter Inc. named Jack Dorsey as chief executive officer, betting its co-founder and former leader can revive fortunes at a social-media company that has failed to impress investors since its 2013 initial public offering.
Dorsey, 38, will also keep his job as CEO of mobile-payments company Square Inc., the payments and financial services company he co-founded in 2009, Twitter said in a filing Monday.

"My focus is to build teams that move fast, and learn faster," Dorsey said in a tweet. "In the past 3 months we have increased our speed and urgency at both companies."
Twitter's board is turning back to one of the people who started the San Francisco-based company to reignite the product buzz that lured millions of users early on. Dorsey helped pioneer the idea that anyone could use short blogs of no more than 140 characters to share views widely and build followings. Twitter became the go-to platform for reporters, entertainers, politicians, activists and others. Yet in recent years the site has been plagued by management turmoil and a product slowdown while rival sites gained in popularity.
Dorsey has already been deeply involved in operations as interim chief. Still, the pick indicates that the board failed to find a CEO who could be fully dedicated to addressing Twitter's issues. Dorsey will also rely on newly appointed operating chief Adam Bain, who proved his mettle as the head of sales.
"Adam is going to be running the business," Brian Blau, an analyst at Gartner, said. "If Adam can execute, and Jack can come in and focus on the next thing, the next product -- that is a good partnership."
CEO Search
The social-media company spoke with two dozen candidates in all, executives said on a conference call earlier on Monday. The board initially sought someone who could devote full attention to Twitter, but loosened that requirement given signs that Dorsey was able to function in both roles effectively, according to director Peter Currie.
"He's an amazing finder and recruiter of talent," Currie said of Dorsey. "People want to work for him."
The board had hired Spencer Stuart in June to run the search and has considered candidates including former Cisco Systems Inc. executive Padmasree Warrior and CBS Interactive Inc. President Jim Lanzone, people familiar with the matter have said.
The stock, which had declined 26 percent since the search began in June, gained 7 percent to $28.15 at the close in New York. The November 2013 IPO price was $26.
Bain, 42, had been president of global revenue and partnerships since 2010. Former CEO Dick Costolo resigned from the board last week, on Sept. 30, the company said.
Revenue Miss
Twitter hasn't lived up to the growth investors expected after its November 2013 initial public offering. The service, with 316 million monthly active users, has been eclipsed in size by properties owned by Facebook Inc. such as WhatsApp, Messenger and Instagram. Twitter's revenue in the first quarter missed expectations for the first time.
Costolo gave Twitter a bigger audience without increasing signups, for example, by distributing Tweets on different Web properties. He also shuffled his leadership team, including by ousting his chief operations officer and replacing his finance chief, his head of engineering and two heads of product.
Dorsey has put his stamp on the company even in the few months that he's been interim chief. He sent out staff memos explaining what products were in progress, hoping to increase transparency. He also asked employees to reflect on what worked or didn't work in a project, in reports called "retrospectives." The company recently struck deals that will allow it to open its e-commerce platform to millions of businesses, making it easier for users to buy while they tweet.
Twitter will begin marketing Project Lightning, a tool that groups together related Twitter content to make it easier to find relevant and popular tweets about an event or topic, Dorsey said on the call. Investors have been waiting for new products that will make consumption of Twitter's vast flow of information simpler, said James Cakmak, an analyst at Monness Crespi Hardt & Co.
Operating Authority
As a leader, Dorsey has learned from his strengths and weaknesses. He's better at making decisions regarding products and high-level vision than he is at seeing them though, so at Square he has given more operating authority to his executive team in the last couple of years, people familiar with the matter have said.
Even so, that means Twitter and Square will have to share a leader with unusually heavy demands on his time. Juggling the two jobs is going to be a challenge, said Jeff Sica, president of Sica Wealth Management, which holds Twitter stock.
"Jack Dorsey, as talented and strategic as he is, is going to have a hard time with it and I think realistically he's going to have to make a choice," Sica said. "Some point within the next six months at least, even by the end of the year, I think he's going to have to really think about what he's going to do."
Twitter's management had been in turmoil since its IPO, and that didn't change under Dorsey's interim leadership. Three product executives have left, two for jobs at Google Inc.'s YouTube and Dropbox Inc. After the departures, Dorsey promoted Jeff Seibert, who was in charge of Twitter's developer platform, to run its consumer product.
This won't be Dorsey's first time as chief executive. The entrepreneur, who helped start Twitter in 2006 with Ev Williams and Biz Stone, was pushed out as CEO in 2008.
Still, Dorsey has maintained his power at Twitter. Even while running Square, which he co-founded in 2009, Dorsey had a role overseeing product development at the social-media company until 2012. He stayed active as Twitter's chairman, serving as adviser to Costolo. Dorsey would suggest acquisitions and phone potential hires to nudge them to take a job at Twitter. Twitter ended up buying Vine, the short video-sharing application, and Periscope, for live streaming, partially because of Dorsey's insistence.