business
Russian Volunteers May Go Fight in Syria as Jets Jolt Turkey
By and
Turkish military says MiG-29s lock on to F-16s on patrol

Prime Minister Davutoglu vows to defend airspace from anyone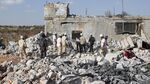 Russia signaled volunteers may head to Syria to fight against Islamic State and other rebels threatening Bashar al-Assad's government, the latest sign of a deepening military involvement in a messy conflict where Russian fighter jets have already faced off with Turkish warplanes in a violation of borders.
Admiral Vladimir Komoyedov indicated some Russians, including those who took part in the conflict in eastern Ukraine, may join forces with the Syrian army, the Interfax news agency cited the head of the State Duma's defense committee as saying Monday. His comments come after Syrian Foreign Minister Walid al-Muallem told the United Nations General Assembly last week that "terrorism cannot only be fought from the air."
The start of Russia's air campaign last week added another major military force to the four-year war where the shared borders of Turkey, Syria and Iraq have become key theaters of aggression. Turkish forces are fighting Kurdish separatists, while across in Syria the airspace has become congested with the U.S. and its allies bombing Islamic State extremists as Russia and Syria attack militants and other jihadist rebels.
Aerial Confrontation
The hint of Russian ground forces alongside the aerial incursions have raised alarms.
The government in Ankara warned it would protect its airspace at any cost after a Russian warplane crossed into its airspace before exiting into Syria on Oct. 3. A day later, two unidentified MiG-29s locked on to two Turkish F-16s for almost six minutes during a patrol flight along the Syrian border, according to Turkey's military.
With so many planes flying over Syria without real coordination as well as "brinkmanship, testing the other's limits, this does create a risky situation which could end in unintended incidents," said Ozgur Unluhisarcikli, head of the German Marshall Fund of the U.S. in Ankara.
Turkey, which is part of a coalition including the U.S. that backs some of Assad's opponents, has the North Atlantic Treaty Organization's largest military after the U.S. It said Russian missiles have struck moderate opposition forces and civilians as well as Islamic State terrorists, and NATO has warned of "extreme danger" in Russia's actions.
Turkish Warning
Russia told Turkey its plane mistakenly violated Turkish airspace and assured it that the incident won't be repeated, Interim Prime Minister Ahmet Davutoglu told Haberturk TV. Turkish military rules of engagement would apply to any plane that enters its airspace without permission and Russia should act carefully, Davutoglu said.
"Turkish armed forces have been clearly instructed to counter whoever violates Turkey's borders even if it is a flying bird," he said.
While a deliberate attack is unlikely, "the chances of a mistake which leads to one side shooting another side's aircraft down are quite high in that situation," Col. Richard Kemp, a former British military commander and a senior associate fellow at the Royal United Services Institute for Defence and Security Studies, said from Washington. Such incidents have occurred among friendly countries, "but when they're not actually friendly, the chances increase dramatically," he said.
Russian Fighter
The Russian campaign, the country's first foray outside the former Soviet Union in more than three decades, has overshadowed the recent diplomatic flurry to seek a solution to the war. NATO is pressuring Russia to coordinate efforts to attack Islamic State, also known as ISIS, ISIL and the Arabic acronym Da'esh.
"Russia's actions are not contributing to the security and stability of the region," NATO Secretary General Jens Stoltenberg said in Brussels on Monday after meeting Turkey's interim foreign minister, Feridun Sinirlioglu. "I urge Russia to take the necessary steps to align its efforts with those of the international community in the fight against ISIL."
The incident will likely strengthen already existing efforts to create channels of communication between Russia and the U.S. because neither side can risk the fallout from a major clash.
"Two great powers, whether they want to or not, are going to have to create the minimum level of critical communication," said Aram Nerguizian, senior fellow at the Washington-based Center for Strategic and International Studies.
— With assistance by Anthony Halpin, James G Neuger, Scott Rose, and Stepan Kravchenko
(Adds details from Russian official in second paragraph.)
Before it's here, it's on the Bloomberg Terminal.
LEARN MORE