Schwarzman Says 'Heroic' Volkswagen Scandal Will Be Temporary
by and
Says Volkswagen makes `terrific' cars, has loyal customers

`This will work its way through the legal system in some time'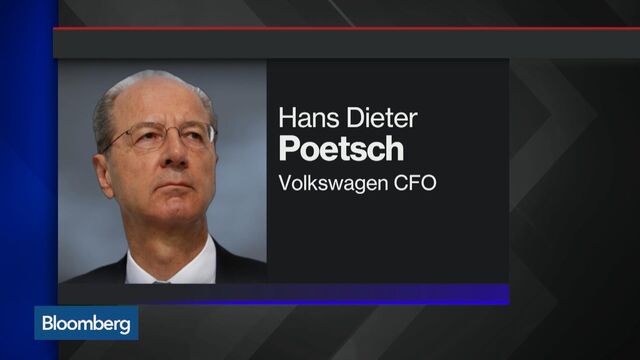 Volkswagen AG's admission that 11 million of its diesel vehicles use software to cheat emissions tests won't threaten the carmaker's existence, said Blackstone Group LP's Steve Schwarzman.
Volkswagen shares will suffer from the scandal, but in the long run, the company has loyal customers, Schwarzman, chief executive officer of New York-based Blackstone, said in a television interview Monday on "Bloomberg <GO>" with David Westin and Stephanie Ruhle.
"This is obviously a heroic problem, but ongoing they make terrific products," Schwarzman said. "This will work its way through the legal system in some time. It just will be a very unfortunate time for their securities."
The Wolfsburg, Germany-based company's stock has plummeted almost 40 percent since Sept. 18, when the Environmental Protection Agency accused Volkswagen of using the software. The carmaker's designated chairman, Hans Dieter Poetsch, has warned managers that the diesel-emissions scandal could pose "an existence-threatening crisis for the company," as it pleaded for public trust with full-page ads in national newspapers.
"There will be a price to pay," said Steve Rattner, chairman of Willett Advisors, speaking on the same show. "This will be a bit like BP, where they will certainly have to pay. I don't think the company is going to go out of existence."
Willett handles the personal and philanthropic assets of former New York Mayor Michael R. Bloomberg, the majority owner of Bloomberg LP, the parent of Bloomberg News.
Before it's here, it's on the Bloomberg Terminal.
LEARN MORE