Russian Intervention Could Worsen Shia-Sunni Split, Fabius Says
Gregory Viscusi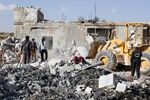 Russian military support for Syrian President Bashar al-Assad's regime risks further worsening the split between Shias and Sunnis, French Foreign Minister Laurent Fabius said.
"The worst risk is that the conflict becomes purely religious," Fabius said on Europe1 radio Monday.
The French foreign minister reiterated that Assad can't remain as the leader of his country.
"The goal of the political process is not to maintain Assad in power but to get him out," Fabius said. "If what you want is the unity of Syria, then how can you keep the leader responsible for 80 percent of civilian deaths?"
Before it's here, it's on the Bloomberg Terminal.
LEARN MORE