Osborne Says U.K. to Take Decision on London Runway Shortly
Thomas Penny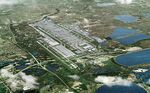 U.K. Chancellor of the Exchequer George Osborne said the government will take a decision "shortly" on where to build a new runway to expand airport capacity in southeast England.
A review headed by Howard Davies published this year recommended expansion options at Heathrow Airport, to the west of London, and Gatwick to the south. Prime Minister David Cameron promised a decision by the end of the year but says that legal constraints stop him commenting any further on the proposals.
"We do need a new runway; where exactly is a decision we're going to take shortly," Osborne said in an interview with LBC News radio on Monday. "This country needs additional runway capacity in the southeast of England."
Cameron delayed the publication of the Davies commission's report until after May's general election to prevent any fallout that might have hurt the chances of lawmakers from his Conservative Party in seats close to Heathrow, where many constituents are opposed to a new runway. Among them are International Development Secretary Justine Greening.
Osborne said a new infrastructure commission, headed by former Labour cabinet minister Andrew Adonis, an outspoken advocate for expanding Heathrow, would not have a say over the decision.
Both London Mayor Boris Johnson and the Conservative chosen as the candidate to succeed him in next year's election, Zac Goldsmith, oppose the expansion of Heathrow.
Before it's here, it's on the Bloomberg Terminal.
LEARN MORE