Osborne Not Good Enough to Succeed Cameron, Donor Temerko Says
Robert Hutton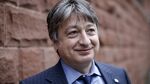 Alexander Temerko, a former Yukos Oil Co. executive who's given more than 800,000 pounds ($1.2 million) to Britain's Conservative Party, said he's backing Boris Johnson to succeed David Cameron as prime minister, because George Osborne doesn't understand business.
In an interview at the Conservative conference in Manchester after Osborne, the chancellor of the exchequer, set out his stall in a speech to activists, Temerko also mocked Cameron's renegotiation of Britain's European Union membership and said he'd be giving money to the campaign to keep the U.K. in the bloc.
"George is a very good technical chancellor," Temerko said Monday. "I like George personally, he's a very good man, but without global vision. Boris is a driver. He can build a team. I will fight for Boris. And put all my resources, influence and everything to give Boris chance to lead this country."
Osborne is currently the favorite with bookmakers to succeed Cameron, who has said he'll leave his job before the 2020 election. Johnson, who's approaching the end of his second term as mayor of London, is popular with party activists.
Offshore Group Newcastle Ltd., the company of which Temerko is deputy chairman, has given the Tories 465,000 pounds since 2012, according to Electoral Commission data. He has personally given 361,000 pounds over the same period.
Temerko was dismissive of Osborne's high-profile efforts to portray himself as engaged with employers. "He is pro-business, but he doesn't know how," he said. "Business needs to help George."
Referendum Campaign
The Ukrainian-born businessman, who left Vladimir Putin's Russia in 2004 after the arrest of Yukos's largest shareholder, Mikhail Khodorkovsky, and was given British citizenship in 2011, said he hadn't yet given money to any of the groups pushing for Britain to remain in the EU because it isn't yet clear which one was going to take charge before the planned referendum.
"I'll definitely join the campaign for 'in,'" he said, adding that it should be led by "proper people" like Confederation of British Industry Director-General John Cridland.
Temerko described Cameron's strategy of trying to renegotiate Britain's terms of EU membership before the end of 2017 as "wishful thinking."
"Unfortunately there isn't an agenda," he said. "What do we want to negotiate? What is the target?"
Temerko's involvement with the Conservatives has given him a taste for British politics. He said he hopes to stand as a candidate for the party in the 2020 election. "Probably yes," he said. "I'll try to find a Labour area and try to persuade people in a Labour industrial area to back a Conservative candidate."
Before it's here, it's on the Bloomberg Terminal.
LEARN MORE