Osborne Lauds Tory Victory With Focus on U.K. Economic Prudence
Svenja O'Donnell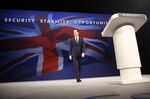 U.K. Chancellor of the Exchequer George Osborne delivered a speech to the Conservatives' annual conference that made much of the party's election victory and reiterated that economic prudence was central to its policies.
Speaking in Manchester, northwest England, on Monday, Osborne said the U.K. must focus on running a fiscal surplus to prepare for "whatever the world throws at us," suggesting he won't soften any cuts put forward in his July budget.
After being introduced to the audience by the Tory lawmaker who ousted former Labour finance spokesman Ed Balls from his parliamentary seat, Osborne attacked Labour for seeking to return to the 1980s and setting themselves up as the "wreckers" of Britain's economic prosperity.
"We're going to have to do a lot more to get Britain back into the black," Osborne said. "I won't pretend that making these cuts will be easy."
Osborne, who also announced Monday that former Labour minister Andrew Adonis would head his new infrastructure committee, is seeking to win over Labour voters unsettled by the election of hard-left activist Jeremy Corbyn as leader. He made economic prosperity the promise of his chancellorship, while warning that a weak euro area still poses risks to the U.K. economy.
A report Monday showed U.K. services growth faltered in September, suggesting weakness in the global economy may hamper British growth.
Before it's here, it's on the Bloomberg Terminal.
LEARN MORE