Osborne Casts His Net Wider Amid Talk of Succession to Cameron
Svenja O'Donnell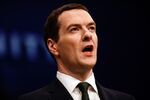 George Osborne expanded his remit beyond economic management, giving more power to U.K. cities and bringing a senior Labour figure into his fold, as speculation mounted over the likelihood of him succeeding David Cameron as prime minister.
By promising to give local authorities the power to set their own business taxes in a speech to the Conservative Party conference in Manchester, northwest England, the chancellor of the exchequer reversed a decades-old Tory policy. The move is an extension of his promise to build a "Northern Powerhouse" -- credited with boosting Tory support in traditional Labour heartlands in May's unexpected election victory.
"I've always been able to see the problems with government," Osborne said Monday. "Now I understand too the power of government to drive incredible, positive change. I don't want to do this job just to occupy the office. I'm here to make changes that last."
Buoyed by the election triumph he helped mastermind, Osborne is the bookmakers' favorite to take over when Cameron steps down before the 2020 election, with London Mayor Boris Johnson's star fading. Still, it will be at least a couple of years before the top job becomes available; and if the economy falters, he may be the one who takes the blame.
Osborne, 44, made devolving power to Britain's regions, and particularly the north of England, one of the cornerstones of the election campaign.
The strategy has now been extended to winning over Labour voters unsettled by the election of hard-left activist Jeremy Corbyn as leader. The chancellor consolidated it Monday with a political coup aimed at taking over the center ground, appointing former Labour Transport Secretary Andrew Adonis to lead a new national infrastructure commission.
'Completely Abandoned'
"To these working people who have been completely abandoned by a party heading off to the fringes of the left, let us all here today extend our hand," the chancellor said.
"We have shifted the terms of the debate in our country and created a new center ground, around fiscal responsibility and lower welfare, reformed public services and support for business too," Osborne said. He reiterated his promise to run a budget surplus "to be better prepared when the storms come."
The risk for Osborne, who took a delegation of business leaders and ministers round China last week to promote investment ties is that the economic recovery that helped build his reputation ends up clouding his future.
"I look at the world at the moment and I see a lot of economic risk out there," Osborne said. "China is vital to our future, but it's not growing as strongly as it was. The euro zone is still very weak."
Faltering Growth
Britain's economy may already be feeling the effects of a weakening of global growth. Data Monday showed U.K. services growth faltered in September, with Markit Economics' index of activity falling to the lowest since April 2013. Markit's composite data that includes factories and construction suggest economic growth slowed to 0.5 percent in the third quarter.
The chancellor also faced repeated questioning in radio and television appearances Monday about cuts to tax credits that will take effect next year. He brushed aside questions about the impact they will have on lowering the incomes of the less well-off, maintaining that other moves he's making, such as increasing the minimum wage, will compensate. Tens of thousands of protesters against such budget cuts marched past the conference venue in Manchester on Sunday
New Lawmaker
For now, Osborne is still basking in the success of overseeing a strategy that brought the Tories their first majority election win since 1992. His speech was introduced by Andrea Jenkyns, the new Tory lawmaker who defeated Labour finance spokesman Ed Balls in the Yorkshire seat of Morley and Outwood.
Ladbrokes Plc said Monday that almost 100 times more money has been placed on Osborne to become the next Tory leader than on Johnson since the election.
While Cameron, speaking to BBC Television on Sunday, restated his intention to step down at the end of his second term -- suggesting he will need to do so in time for a new leader to be appointed in 2020 -- he also underlined the fact that political successions can be unpredictable.
"It's never a coronation because it's not my decision, it is the decision of the MPs and the party members," he said, when asked about his possible successors. "As I said to Jeremy Corbyn, sometimes the outsider wins."
(A previous version of this story was corrected to show the right date for the next election in the fourth paragraph.)