Vintage Cars
How Emory Porsche Customizes Incredible Vintage Porsche 356s
Some view these new/old hybrids as heresy, but once you get behind the wheel of a souped-up piece of history, it's hard to argue with Rod Emory's methods.
By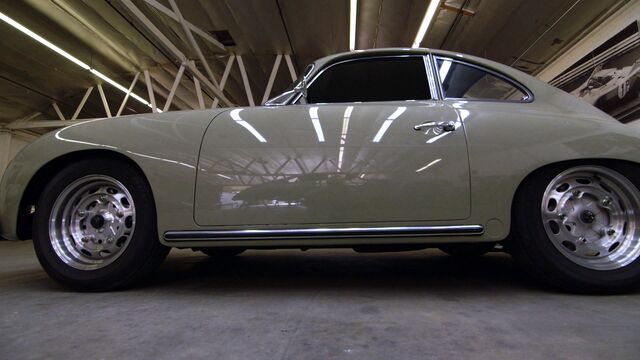 To enjoy certain objects of luxury today, you must be a bit of a sadist. 
You must be willing to pay enough so that it hurts a little to swallow the fee. You must be willing to endure a waiting period (weeks? years?) stretched taut between the moment of desire and the moment you acquire the object that prompts it. 
An Hermès Birkin, a Patek Philippe split-second chronograph, a 1998 Krug Clos d'Ambonnay. The hurdles to obtaining them lend to the ecstasy of their possession. So it is when you finally drive your Emory Porsche Outlaw.

To get to that moment, you've got to order it at least a year in advance, since the wait-list is full of drivers richer and more famous than you. Selections on the particulars of the interior trim and the hue of the exterior paint must happen over a period of weeks, usually requiring a pilgrimage to Burbank, Calif., for an audience with Rod Emory. The cars are his wards; he gave them his name, plus the additional moniker "Outlaw" to reflect his own sacrilegious proclivities. 
The infidel status started years ago with the gleaming Porsches he would rework, along with his father and grandfather, at their shops in Southern California. They would customize, kit out, and otherwise renovate these beloved classics.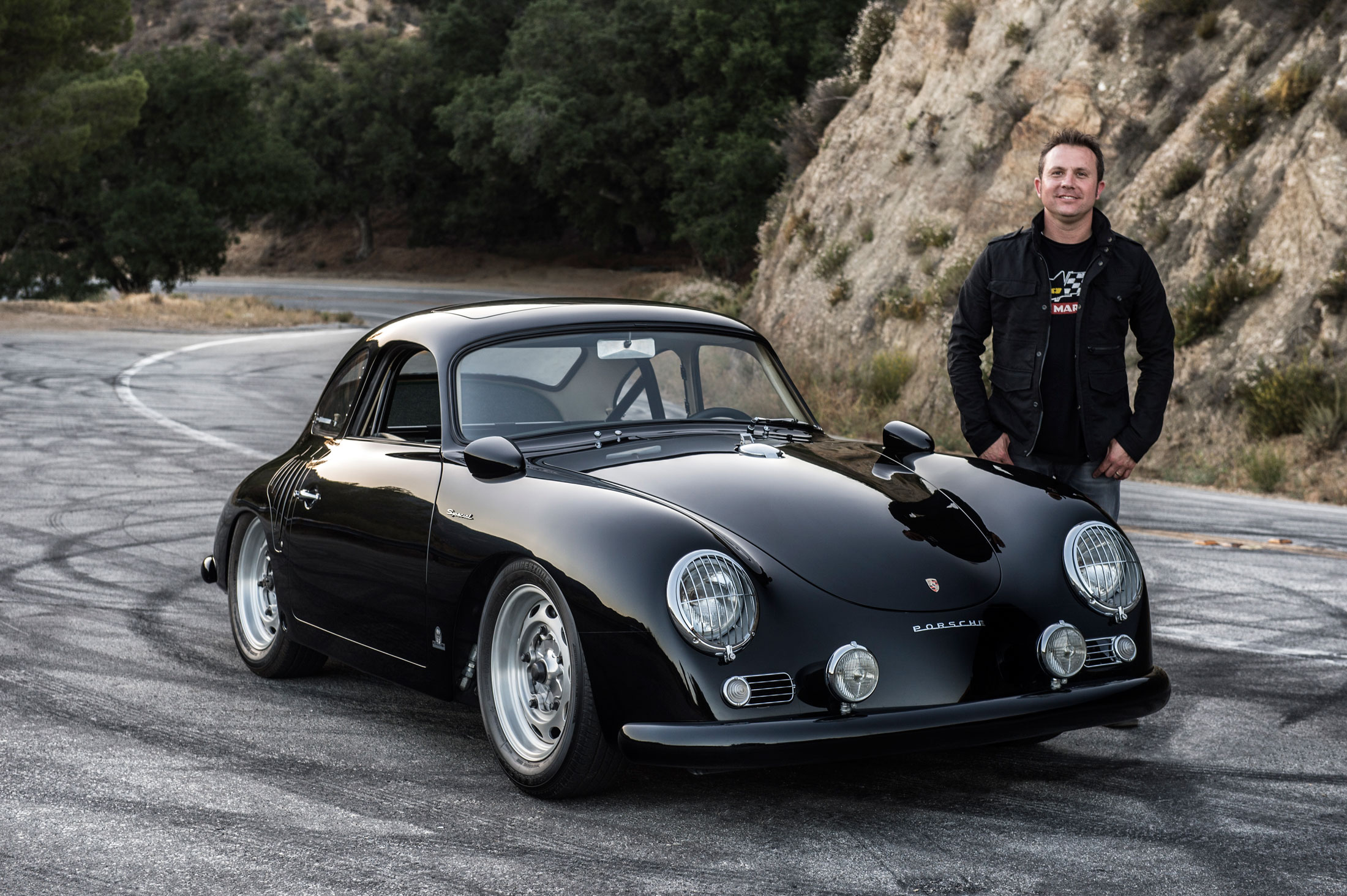 Keepers of the Porsche flame, it seems, did not take well to the Emorys' enthusiasm for non-original additions such as disc brakes (rather than drum), 4-cylinder engines sourced from 911s, overhead cams, lowered suspensions, and such modern amenities as seat belts.
"Early on, people gave us a hard time," Emory, 41, says. "We'd go to car shows, and they would make us park out in the dirt." 
Now, of course, the 356s are in high demand. The young head of a prominent national hamburger chain drives one. So do dozens of entrepreneurial Hollywood types gone big. 
You can get one, too. As long as you are among the chosen few—those allowed to perform the holy sacrament of paying $250,000 to $500,000 for the privilege of ownership. 
History in the Making, Again
For the select six or so people a year, once they get behind the wheel, all strife fades as quickly as water vapor on an exhaust pipe. 
Drive an ivory 356 convertible or a black 356 coupe, and you'll feel it gather itself and jump forward on its four-speed manual gear springs like a young hound at the chase. The snub-nosed 2,000-lb. bodies zoom like hockey pucks across ice, around corners, and through curves; their (newly) tight brakes barely require a touch to adjust velocity. The old/new Emory Outlaw Porsches sound and smell and vibrate like their mod-squad forebears did in a way that would charm even the crustiest mechanic. 

"It just looks like a nice old Porsche, but when you jump on the freeway and you're doing 100 miles an hour, it's just, wow," says John Linfesty, a real estate specialist in Santa Monica, Calif. He bought a stone-gray 1958 Porsche 356A from Emory last year. "If I had to sum it up in one word, I say I bought it because it's fun."
This Is How He Does It
Exactly. An Emory Porsche retains the same petite glossed curves that melted hearts in the 1950s and '60s, the actual same original smiling curve of the front hood, the same wide-open pearl eyes, the same softly tucked rear, but underneath the retro body it oozes the benefits of modern technology. 
The rear-engine, air-cooled, 200-horsepower cars won't break any speed records—they still have old bones under those unibodies, after all. They don't exactly drive like new Caymans. But jump in one after Emory gets through with it, and you might think you're in a 911 circa 1985.

"The people that come to me love that classic shape and design of a Porsche 356, or an early 911, but they want it to have more power and more performance," Emory says. "And they want to be able to put some special little touch or characteristic on it that's going to set it apart from the rest."
So he finds metal shells, in varying parts of disarray, in barns, on Craigslist, at auctions, in fields. He's well-known enough, now, that people call him if they see a car he might like; they might sell him an untouched 356 for anywhere from $25,000 to $30,000. Exceptional examples can cost $70,000 to $100,000 in their raw form.
Once in the shop, Emory and his team of eight—the leader of which has worked there since he was 10 years old—put the car on a lift so they can inspect it for rust and other damage. Then they disassemble it completely, separating out the outer body shell and the innards. They blast down the shell to remove all paint and impurities, repair the rust, reinforce the chassis, paint and polish it, and reassemble the metalwork to the body. 
Simultaneously, one or two of the shop mechanics will be building the engine, building the transmission, and plating the hardware specifically to the demands of the client. (They use both deadstock parts and, on the same '60s-era tools Emory's father used, make new-car parts for the cars.) It's like putting together a mechanical watch, but without the need for a loupe.

"Once we start reassembling the car, it starts looking like a piece of jewelry," Emory says. He's currently finishing the bespoke plaid interior lining inside Linfesty's coupe. "Every part you put on brings a little bit more life to it."
It takes 18 months to finish each one, give or take a half-year. Emory usually delivers the cars himself, even if it requires a plane ticket to do so, after putting them through 200 miles or so just to work out any last kinks. 
All that work does, as one would hope, pay off. 
The Cult of the Classic 
Not everyone appreciates the allure. Porsche purists have turned up their noses at the idea that not every component of these objects d'art aren't kept up with exact matches to their proper year and model. Porsche AG did not respond to requests for comment about the off-brand line, though anecdotal evidence suggests some within its ranks are far less than enthusiastic about their popularity.

Analysts say it's subtler than that. According to data from Hagerty, a stock 1958 Porsche 356A Coupe has appreciated in the past five years from $64,000 to $167,000, and the Speedster version has appreciated much more than that. The top-performing original variants (such as a documented original 1958 Porsche 356A GS/GT Carrera Speedster, currently worth $2.1 million) will always be worth more and will likely appreciate the most. But well cared-for Emory-built Porsches should always hold their value over time, says Hagerty's Jonathan Klinger.
"You have to consider that the owner is making the investment of high performance in an iconic car performed by a very reputable builder with its own brand reputation and following," Klinger says. "The Porsche brand cars are currently considered the gold standard in the collector car industry, and it is likely that these branded reworked cars will continue to have a following among a subset of Porsche enthusiasts."
As for Emory himself, he says he's not doing anything particularly damning; he's just thinking differently. 
"If you look at Porsche, all the way back to their earliest days they would take a standard 356 or a standard Gmund car, and they'd drill holes in it and put hood straps, they'd put fog lights on them, they'd louver stuff, they'd put a bigger engine," he says. "I'm not doing anything that Porsche didn't do, it's just that I'm doing it a few years later."

Before it's here, it's on the Bloomberg Terminal.
LEARN MORE